Andy Powers Made Partner in Taylor Guitars
The master guitar designer is joining Taylor co-founders Bob Taylor and Kurt Listug as the third partner of the company.
September 4, 2019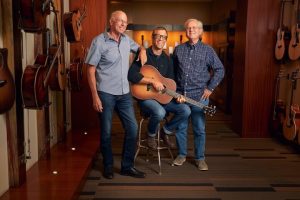 Taylor Guitars is pleased to announce that master guitar designer Andy Powers is joining Taylor co-founders Bob Taylor and Kurt Listug as the third partner of the company. The move solidifies a bright future for the acoustic guitar manufacturer, as Powers has been the creative wellspring for Taylor's guitar development and innovation since his arrival in 2011, most recently seen in the development of V-Class™ bracing bracing and the new Grand Pacific series of guitars,
"I'm thrilled to build guitars and continue this fascinating work I've been pursuing since I was a young boy," said Powers. "It's a genuine pleasure to be able to design the best instruments I can and, within the context of Taylor Guitars, have an opportunity to serve musicians around the world."
As co-founding partners of the company, Bob Taylor and Kurt Listug have grown the business around a passion for guitar innovation. As they look ahead to the long-term future of Taylor Guitars, they want to ensure that Taylor's drive to make better guitars is preserved. Powers' passion and talent for guitar design make him the right person to lead its innovative pursuits and help the company thrive for decades to come.
"Kurt and I have been the sole owners of Taylor Guitars for decades," said Taylor. "Andy is the best guitar builder I have ever met, and I believe the best alive today. If anyone ever deserved to be called 'partner' with me and Kurt, it is Andy. He's vital to our future, and together as we combine our talents, we can bring a great musical experience to our customers."
A strong partnership is one of the keys to Taylor's ongoing success. Taylor and Listug both agree that they would never have grown the company into the industry leader it is without the contributions of each partner.
"What's unique about Bob and me, and our partnership, is that one of us is a guitar maker and engineer, and the other is a businessman and sales & marketing person," said Listug. "That combination, and our shared ethics and values, are what has set us apart. Since Bob identified Andy Powers as the person to lead the company's guitar design into the future, we've all witnessed Andy's amazing talents and seen the improvements he's made to our guitars, as well as his advancements to acoustic guitar design. We're proud to have Andy join Bob and me as a partner and shareholder in Taylor Guitars."
For more information please visit TaylorGuitars.com.
Related Inside Look Posts
Singer-songwriter performs a solo version of a song from her album "Clarity."

Read More
Bob Taylor, Andy Powers, and Jim D'Addario discuss a new collaboration between their companies.

Read More
The Fretboard Journal mastermind talks about his career in music journalism, the Fretboard Summit, and more on Taylor's Primetime podcast.

Read More
Taylor elevates its flagship model with an artfully-crafted Adirondack spruce top and upgraded aesthetic touches.

Read More
A trio of new guitars in Grand Theater, Grand Concert, and Grand Pacific sizes, featuring sunburst finishes.

Read More
GS Mini-e Rosewood Plus and GS Mini-e Special Edition Caramel Burst deliver a new variation on Taylor's compact GS Mini platform.

Read More
Taylor artists react to trying out the company's new Urban Red Ironbark 500 series guitars for the first time.

Read More
A demo of one the best-selling 12-string on the market.

Read More
Guitarist and Taylor artist Nick Veinoglou demonstrates how to play with good posture.

Read More
Bob Taylor, Kurt Listug, and Andy Powers talk about Andy's new role as President and CEO, the new koa 700 series, and more on the Taylor Primetime podcast.

Read More