Derk's Discoveries: When Dreams Come True
Carrie Rodriguez turns her complex cultural identity into musical magic.
By: Derk Richardson
June 24, 2016
Three tracks into her new album, Lola, Carrie Rodriguez sings the de facto title song, "I Dreamed I Was Lola Beltrán." With guitarists Bill Frisell, David Pulkingham, and Luke Jacobs providing a slinky, silvery soundscape over the bass and drums of Brannen Temple and Viktor Krauss, respectively, Rodriguez croons, in Spanish and English, a series of images and ruminations: "Blanco y negro in a worn-out picture frame … ribbon microphone, early '40s CBS … give me a photograph that I can touch … I dreamed I was Lola Beltrán and you were Javier Solis …"
"Was that a real dream?" I asked Rodriguez in a radio interview before a recent show at the Freight & Salvage Coffeehouse in Berkeley, California. She was speaking from the home she shares in Austin, Texas, with husband Jacobs and their infant son Cruz. "It's a daydream," she said, "I was looking at old black and white photographs, imagining what it would have been like to be around at that time," by which she meant the La Epoca de Oro, "the golden era" of Mexican popular music and film. Although the song mentions Beltrán and Solis, two of the greatest ranchera singers of that time, the photograph that inspired it was of Rodriguez's great aunt, the San Antonio singer Eva Garza.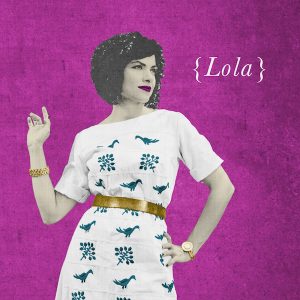 Rodriguez, a singer-songwriter and fiddler who first came to notice touring and recording with singer-songwriter Chip Taylor ("Wild Thing," "Angel of the Morning"), was given the photographs—and CD transfers of old Garza recordings on vinyl—by her grandmother in the early 2000s. "I remember sitting down on the couch in my studio apartment in New York, putting the music on and crying, because it was just so beautiful, and I couldn't believe that she was my great aunt, she was related to me, and she had that voice."
On Lola, her fifth solo album, Rodriguez sings in English, Spanish, and what she refers to as Spanglish; she covers classics of Mexican music, including "Perfidia" by Alberto Dominguez, "Que Manera de Perder" and "Si No Te Vas" by Cuco Sánchez, and "Noche de Ronda" by María Teresa Lara; and she introduces new, autobiographical originals.
"It took a lot of nerve for me to even sing in Spanish," she said, noting that she first recorded a song in Spanish on her 2009 album Love and Circumstance. "I noticed when I would perform that song live, there was just a different part of me coming through, a different Carrie." She grew up speaking English as her first language and became fluent in Spanish later, she said, "only because my first husband was from Spain."
"Diving into this Mexican music really brought out a different side of my songwriting," Rodriguez continued. "It made me think quite a bit about what it means to me to be a Mexican-American, especially one who plays the fiddle and sings country music."
On "The West Side," she sings from the perspective of a schoolgirl on the West Side of Austin, "the nice side of the tracks" where Rodriguez's family lived, speaking to a girl who's been bussed over from the East Side. "Remember dear," she sings, "you are different in every way … Don't be tempted to stay." Rodriguez explained the song as "a memory that bubbled to the surface while I was working on the album. "The East Side, back then, was mostly Latino and African-American and lower income," she said. "They were bussing kids over to my neighborhood, trying to mix us up. I remember coming home from school one day and telling my mother that I wanted to change my last name. I didn't want to be Rodriguez anymore. And she asked why. 'The other kids with my last name, they all come from the East Side of town, they get bussed over, and the kids from our neighborhood call them these terrible names, and I'm afraid they're going to call me the same names.' Things like that kind of came up that I had maybe not thought about in years."
When planning to record Lola, Rodriguez and producer Lee Townsend (known for his work with Frisell and many others) decided to go it alone. Rodriguez's thinking was, "I don't want to try to pitch this bizarre-sounding [bilingual] project to a label, I just want to make this thing that's in my heart and not have any questions about that coming from the outside."
The album was financed with crowd-sourced funds. "That took the pressure off a little bit—I was making art for art's sake and that's a wonderful thing."
For the eclectic blend of rock, folk, country, and Mexican musical idioms, Rodriguez and Townsend brought together the Sacred Hearts, the "dream band" mentioned above, with a guest vocal by Raul Malo of the Mavericks. "I love the idea of putting together this kind of, I guess you call them my own mariachi band, full of people that weren't really familiar with mariachi music. I was very open to what all the players would bring."
Rodriguez credits Townsend with masterminding a unified sound. "Lee is so good at seeing the big picture. He can step back and see the whole album as a painting. He is so good at making the musicians feel confident, at their best, and that's really important in the studio. It can be kind of a head trip. You can get a little bit locked up sometimes. Lee just puts everyone at ease and makes them feel like they can do anything."
The "dream" theme behind Lola is not merely incidental. "I definitely felt like I was in a dream state through the whole thing," Rodriguez said. First, she explained, it was by the grace of generous friends and fans that she could afford to be in a studio with "my favorite musicians and human beings, getting to record this music, just because these people trusted us to make art. Secondly, I was six or seven months pregnant at the time, so that was kind of magical, to be creating music in that circumstance, feeling this life inside of me while I was singing—it almost felt like it gave me super powers."
Related Recordings Posts
On "and Laurie Lewis," the Berkeley-based multi-instrumentalist mines a career's worth of friendships for a brilliant collection of duets.

Read More
The string quartet Hawktail soars above the New Acoustic Music plain.

Read More