REVIEW: Jenna Moynihan, "Woven"
Scottish fiddler Jenna Moynihan spins Celtic gold on her lyrical debut recording.
October 7, 2015
One reason for the enduring popularity of the violin/fiddle in all kinds of music is its similarity to the human voice, and the measure of a great fiddler (OK, I'm using the vernacular term from here on) is his or her ability to make the instrument "sing." By that measure, Jenna Moynihan is a great fiddler, as she convincingly demonstrates on her debut recording Woven (jennamoynihan.com). For those unfamiliar with the contemporary Scottish music of Alasdair Fraser and Natalie Haas, Hanneke Cassel, and others, praising an album of Scottish fiddling for its soulful lyricism may seem surprising. If so, let Jenna Moynihan's Woven introduce you to the expressive possibilities of traditional and original Celtic music in the hands of one of its most talented young practitioners.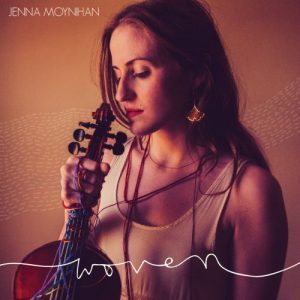 The material here flits between traditional and recently written tunes (three of them by Moynihan), and the arrangements are fluid and natural, yet often surprising, occasionally featuring contemporary bluegrass-oriented string musicians like Darol Anger, Courtney Hartman, and Alex Hargreaves. Hartman's guitar playing is particularly notable. On "Haven," the lead-off track, Hartman creates a unique rhythmic bed with harpist Mairi Chaimbeul (who appears on many of the album's tracks) for Moynihan's leaping 3/4 melody, and then kicks off the reel "Dolina MacKay" with a fiery, rhythmic flatpicked rendition of the melody while guitarist Owen Marshall drives the rhythm, later joining Moynihan and Marshall with some contrapuntal lines that make "Dolina MacKay" one of the album's highlights.
But, as she should, Moynihan takes center stage throughout Woven, "singing" the mournful traditional melodies of "The Eagle's Whistle" and "The Banks of the Deveron"; weaving her fiddle's lines with those of Anger or Hargreaves on "O'Sullivan's March"  and her original "crooked" old-time-influenced "The Chill on Montebello"; and kicking Celtic butt on the pipe tune "Major Campbell Graham" and the trio of reels that closes the album. In everything she does, Moynihan proves she's absorbed and mastered the tradition but is in no way bound by it. As is often said of musicians with such a brilliant debut, Jenna Moynihan is definitely someone "to watch" (you can see her in Laura Cortese's band the Dance Cards among other places these days), but while you're watching make sure you listen to the golden sounds she spins on Woven.
Related Recordings Posts
On "and Laurie Lewis," the Berkeley-based multi-instrumentalist mines a career's worth of friendships for a brilliant collection of duets.

Read More
The string quartet Hawktail soars above the New Acoustic Music plain.

Read More