Matt Flinner Trio: "Traveling Roots"
Tight ensemble playing and compositional brilliance from the mandolin whiz and his compatriots.
By: David McCarty
April 19, 2016
Every since winning the 1991 Walnut Valley Mandolin Championship at Winfield, Kansas, as a youngster, Matt Flinner has been a superstar in the mandolin world. A brilliant player, composer, bandleader, teacher, and transcriber, Flinner's solo records and work with Phillips, Grier, Flinner stand as pinnacles of modern mandolin brilliance. His latest release, Traveling Roots, with his exceptional trio (guitarist Ross Martin and bassist Eric Thorin) takes his pioneering spirit in new directions. The recording features the exquisitely tight interplay Flinner has forged over many years of touring and recording with Martin and Thorin, both of whom share composing duties with Flinner.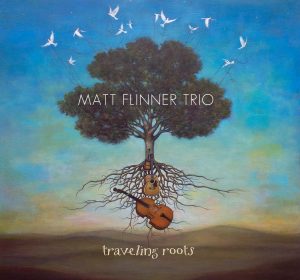 The dozen deftly woven musical tapestries presented here reference a wide variety of styles and genres. For example, Martin's opening cut, "Hide nor Hair," threads a delicate line between jazz, classical, and progressive acoustic. Flinner, who's been known to transcribe Led Zeppelin solos for mandolin, tosses in a rock-influenced tune called "150 Banjos" led by a propulsive, driving bass line from Thorin. And Flinner's "One Dog Night" could easily become a parking-lot picking standard for the 21st century. Traveling Roots showcases one of progressive acoustic music's most talented and innovative bands. Filled with brilliant harmonies and tight ensemble playing, the Matt Flinner Trio's latest outing is also one of their very best. Compass Records, compassrecords.com
Related Recordings Posts
Marla Fibish brightens our days with Irish mandolin music.

Read More
The string quartet Hawktail soars above the New Acoustic Music plain.

Read More