Derk's Discoveries: Irish Comfort
Marla Fibish brightens our days with Irish mandolin music.
By: Derk Richardson
April 19, 2020
Sometimes the music you need is right under your nose. That was the case for me with the music of Marla Fibish. Although she's been my virtual neighbor for some time here on Peghead Nation, I wasn't all that familiar with her playing and singing until she sent me a copy of her new CD, The Bright Hollow Fog (Noctambule Music). Among her many teaching gigs, Fibish is Peghead's Irish Mandolin instructor.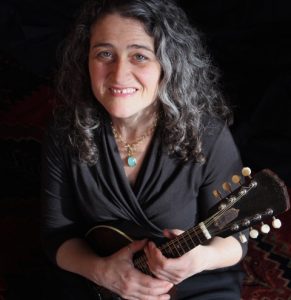 The mandolin might not be the first instrument that comes to mind when you think of Irish music. But for Marla Fibish it's the only instrument. (Well, that and its larger ancestor, the mandola. She also plays some tenor guitar and button accordion.) It's not that the mandolin is unheard in Irish music; far from it. But as Fibish says, "It is still considered a bit fringe, and is often a second instrument for people, rather than their primary instrument."
On The Bright Hollow Fog, Fibish plays jigs, airs, reels, polkas, a waltz, and a march, and gives voice to a poem by Stephen Vincent Benét and one by Thomas Hardy. She performs several pieces solo and others in different small settings with Martin Hayes and Rebecca Richman on fiddles, multi-instrumentalist Keith Murphy on mandola, Steve Baughman on gourd banjo, and her husband, guitarist Bruce Victor, with whom she performs and records as Noctambule.
There's a sparkling brightness to the plucked double courses of strings of the mandolin, and a slightly darker tone to the lower-tuned mandola. The timbres are perfect for expressing both the melancholy and the hope built into the melodies of the instrumental tunes here, and Fibish's rich voice captures the haunting mystery of both "Riversmoke," taken from Benet's epic "John Brown's Body," and Hardy's "Are You Digging on My Grave?" The mostly traditional music hits just the right emotional notes to offer much needed solace and comfort—and a feeling of intimacy—in these fraught times of distance and isolation. It's the sonic equivalent of a lace curtain wafting in a window, sunlight dappling a polished hardwood floor. A Wyeth painting come to life. (In a particularly uplifting moment, Fibish's daughter, Miriam, adds "dancing feet" to the jig "An Buachaill Dreóite.")
Fibish, a San Francisco native, wasn't raised on Irish music. It came to her, literally, in college in the form of LPs brought back from Ireland by a roommate: Planxty, Andy Irvine, Paul Brady, Clannad,  and others. "It was the beautifully arranged songs that caught my ear first," she explains. "I had no context to understand the jigs and reels at first, but then I had another roommate who brought me to the Monday night ceilis at The Starry Plough [in Berkeley].  That's where I first got interested in the dance music."
Around the same time that she got turned on to Irish music, Fibish inherited her beloved grandfather's mandolin. "It all sort of happened at the same time," she recalls. "I retrieved the mandolin from my aunt's attic, where it was stored after my grandfather's passing, because I wanted to play. I had played the viola in my junior high school orchestra. I didn't stick with it when I entered high school as I wasn't ready to apply myself in the way I would've needed to."
The mandolin, however, inspired her anew. "I had a lesson or two to get started, but I'm mostly self taught," she says. "This was pre-internet, and there was nobody available to me that was playing the music I was interested in on the mandolin. So I figured out a way. I had played an instrument tuned in fifths before, so that was a help. I started to try to play whatever I could, and it pretty quickly became apparent that it was Irish music that was tugging on my ear."
Looking back now, she says, "It's hard to remember not loving this music, like it's hard to remember not speaking my native language, except I did not grow up with this music. I have often wondered what it would feel like if I did. But the modes and meters of the music, words I didn't know at the time, seemed to fully engage me in the experience of it, be it joy, sadness, silliness, beauty—it seemed to all be there in the melodies."
Listen to how Fibish brings all that out on The Bright Hollow Fog. It will do your spirit good. Until the COVID-19 pandemic ebbs and our social lives resume, you won't be able to hear her in person. Noctambule, however, is offering a "Serenade in Place" mini concert on Wednesdays and Saturdays, streaming live on Facebook. Fibish will also take over Peghead Nation's Facebook page at 1 p.m. on Monday, April 27, for a Q&A and a few live tunes.
Related Recordings Posts
The string quartet Hawktail soars above the New Acoustic Music plain.

Read More
John Reischman and the Jaybirds soar through gospel, old-time, bluegrass, and Beatles songs on their latest recording.

Read More