Derk's Discoveries: Getting Better All the Time
May I introduce you to SF String Trio's Lonely Hearts Club Band?
By: Derk Richardson
September 16, 2017
Had enough Summer of Love nostalgia? Have you overloaded your eyes and ears reading about or listening to the 50th-anniversary remix and deluxe reissue of Sgt. Pepper's Lonely Hearts Club Band? Well, don't turn your back on 1967 just yet. The San Francisco String Trio's debut recording, May I Introduce You To, released on September 8 on Ridgeway Records, takes all 12 tracks from what many people consider the most important or most overrated album in the Beatles' catalog and reinvents them as vehicles for sophisticated jazz arrangements and improvised solos on violin, guitar, and acoustic bass.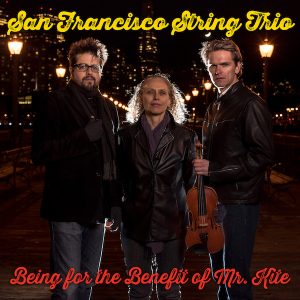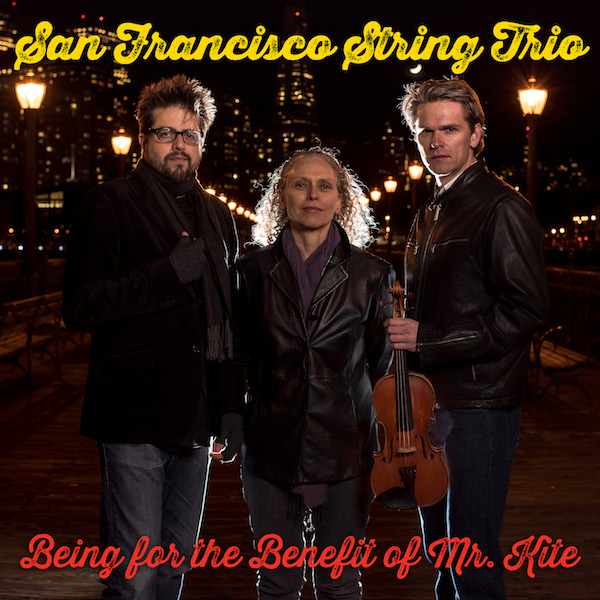 The SF String Trio is a Bay Area super group of sorts: Copenhagen-bred Mads Tolling (violin) toured with Stanley Clarke before joining the Turtle Island Quartet for an eight-year run and then forming his own group, the Mads Men; Mimi Fox (electric, acoustic, and 12-string guitars) has thrived as a touring and recording artist for 30 years, recording nine albums under her name; and in addition to leading his own ensembles, Jeff Denson (double bass, vocals) has recorded and toured with alto saxophone master Lee Konitz. All three are on the faculty of the California Jazz Conservatory (The Jazz School), in Berkeley.
On May I Introduce You To, these virtuosos share arranging credits as they extrapolate the melodic structures and explore the harmonic possibilities of eleven Lennon and McCartney songs and one George Harrison composition. You may have thought you knew these tunes inside and out (or within and without you). SF String Trio shows what that really means. Recorded with beautiful sonic fidelity, the versions here take Sgt. Pepper's Lonely Hearts Club Band out of the art-rock realm, expand the music's idiomatic potential with bebop, swing, R&B, and tango stylistic twists, and tease out new shades of playfulness, dreaminess, and poignancy from "When I'm Sixty-Four," "Lucy in the Sky with Diamonds," "Good Morning Good Morning," "She's Leaving Home," and the other classics. Denson, a sweet and smooth vocalist, sings "Fixing a Hole," "Getting Better," and "A Day in the Life" without trying to sound like Paul or John, and by scrambling the track order, the trio puts you and the songs into an entirely new head space.
I thought I was just about burned out on Sgt. Pepper's in its 50th-anniversary year. I also thought there wouldn't be a peghead-instrumental treatment of Fab Four music this year to compete with fingerstyle guitarist Laurence Juber's LJ Can't Stop Playing the Beatles! I was wrong on both counts. Thanks to the San Francisco String Trio, I have to admit it's getting better.
Related Recordings Posts
The string quartet Hawktail soars above the New Acoustic Music plain.

Read More
John Reischman and the Jaybirds soar through gospel, old-time, bluegrass, and Beatles songs on their latest recording.

Read More