Derk's Discoveries: Thompsonia, Good for What Ails You
Eric, Suzy, and Allegra Thompson's family band plays joyful "weird and obscure old-time American music."
By: Derk Richardson
March 17, 2017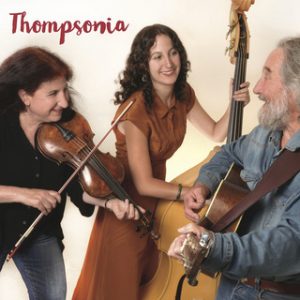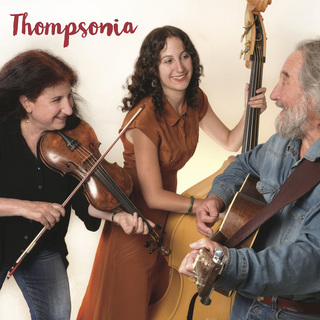 When it comes to first families of American music, we've had the Carter kinfolk in early country, the Marsalis brood in jazz, and the Savoy clan in Cajun. Now we have Thompsonia, the first family of "weird and obscure old-time American music—warped fiddle tunes in odd tunings, cinematic ballads, country blues songs that contain mysterious metaphors, early Cajun music with incomprehensible French lyrics and backwards chords."
That's how, on their website, Eric and Suzy Thompson describe the music they've made together for decades, as a duo and in such ensembles as the Aux Cajunals, the Todalo Shakers, the Bluegrass Intentions, Guitars Without Borders (Eric's "acoustic power trio" with Scott Nygaard and Jody Stecher), and Suzy's blues duo with Del Rey. With the addition of their 28-year-old daughter, Allegra, the Thompsons take their place among genetically bonded musical royalty.
Eric (guitar, mandolin, vocals) and Suzy (guitar, fiddle, vocals) have long been one of the MVP couples of San Francisco Bay Area traditional music, along with Kate Brislin and Jody Stecher, and Laurie Lewis and Tom Rozum. A world champion flatpicker, Eric's resume is rooted in 1960s old-time music, including the Black Mountain Boys (with Jerry Garcia and David Nelson) and Grateful Dead precursor Mother McCree's Uptown Jug Champions. He's played with the Charles River Valley Boys, the Spare Change Boys, the Graineog Celidh Band, the Blue Flame String Band, the California Cajun Orchestra, Kleptograss, the Black Mountain Jungle Boys, and others.
A disciple of singers Bessie Smith, Sippie Wallace, Memphis Minnie, Victoria Spivey, and Memphis Minnie, and of Cajun fiddlers Dewey Balfa, Dennis McGee, Cheese Read, and Wade Fruge, Suzy has mastered innumerable strains of vernacular music, from klezmer (in Klezmorim) to Cajun, ragtime to hillbilly blues, country string band to bluegrass. In addition to playing with Eric in the California Cajun Orchestra and the Blue Flame String Band, she cofounded the all-woman Any Old Time String Band, launched the Berkeley Old Time Music Convention, served as Artistic Director of the Festival of American Fiddle Tunes, and is the first-call fiddler for the likes of Peter Rowan, Geoff Muldaur (the Texas Sheiks), and Jim Kweskin (she played on Kweskin and Muldaur's recent Penny's Farm).
That CV shopping list is rattled off just to underscore the fact that the influences poured into Thompsonia—Eric, Suzy, and Allegra's family-band debut—far outnumber the CD's ten tracks, which overflow with effortless-sounding instrumental virtuosity, buoyant ensemble playing, soulful singing, and a sense of humor desperately needed in these grim times. The album opens merrily with Jimmy Williamson's rockabilly tune "I've Got a Bead on You Baby," with Bill Kirchen tearing it up on electric guitar, and ends with the equally uplifting Suzy Thompson original "Very Bad Mood."
Paul Knight anchors every song on upright bass, and guest musicians include producer Jody Stecher (banjo, rhythm guitar, slide guitar, acoustic bass guitar) and Cindy Cashdollar (resonator guitar). As for the youngest Thompson, Allegra (a fine upright bassist and also a member of the Midnite Ramblers) holds her own, taking vocal leads on six songs, including Hugh Moffatt's exquisite romantic ode "Rose of My Heart," and, trading off with mom, Kansas City Kitty and Georgia Tom's "How Can You Have the Blues."
The answer to that last musical question is, you can't, not if you let Thompsonia into your life.
Related Recordings Posts
The string quartet Hawktail soars above the New Acoustic Music plain.

Read More
On its riveting Rule of 3, Väsen brings seamless virtuosity and emotional depth to its original take on Swedish folk traditions.

Read More