Derk's Discoveries: The Duo 2.0
Scroggins & Rose bring New Acoustic Music full circle and then take it beyond
By: Derk Richardson
June 12, 2017
In the early 1980s, fiddler Darol Anger and mandolinist Mike Marshall parlayed their late '70s experience in the David Grisman Quintet into their own cornerstone of New Acoustic Music and recorded together under several names, including The Duo.
Maybe New Acoustic Music—given such institutional definitions as "a music genre that blends influences from folk, bluegrass, jazz and world music and uses only acoustic instruments" (Wikipedia) and "an exhilarating mix of bluegrass and jazz [that] features lead roles for folk instruments like the mandolin, fiddle, banjo, and acoustic guitar" (Allmusic Guide)—ain't quite what it used to be when it was in full flower under the power of Grisman, Anger, Marshall, Bela Fleck, Tony Rice, and many others.
But it certainly hasn't withered on the vine. Indeed, New Acoustic Music thrives in so many shoots and branches—from string bands and string quartets to world fusion ensembles and banjo duos—that the broader category is less often invoked than in the past.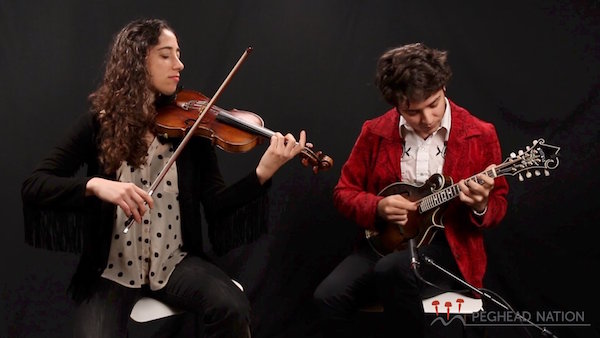 Tristan Scroggins and Alisa Rose, however, play it close to the source, even if they are a generation or two removed from the roots. On their debut CD of duets, Grana, Scroggins, on mandolin, and Rose, on violin and baritone violin, build on the foundation established by Anger and Marshall but carve out a distinct niche at the intersection of bluegrass and baroque music. They bring diverse performing experiences to the mix: Rose has played with Real Vocal String Quartet, 49 Special, Club Foot Orchestra, Quartet San Francisco, the Village Road Trio (with accordionist Rob Reich and bassist Daniel Fabricant), and duos with pianist Amy Zanrosso and violinist Mazz Swift; Scroggins, thoroughly bluegrass-steeped, to the point of writing a "nerdgrass" blog, "The Why Lonesome Sound," has toured widely with the bluegrass band Jeff Scroggins and Colorado, led by his dad, a two-time national banjo champion, and has worked with Sally Van Meter, Tim O'Brien, Darrell Scott, Mark Schatz, and Don Rigsby, among others.
Grana lives up to the Allmusic definition of New Acoustic as "an exhilarating mix," with half the 14 tracks being brightly conceived and buoyantly executed originals, and another six being improvisations on every thing from Bill Monroe's "Wheel Hoss" and "Jerusalem Ridge" to "Arkansas Traveler," "Cluck Ol' Hen," and Paganini's "24th Caprice." Some of the exhilarations come from listening to jaw-dropping virtuosity and the facile use of extended instrumental techniques. But the more you listen, more comes into focus: the nuances of timbre and phrasing, the seamless blend of bluegrass and classical, and the many shades of joy in the duo's intuitive communication, all taking you deeper into a fine web of sparkling music.
Scroggins & Rose are no strangers to Peghead Nation, and you can watch the video of their performance when they dropped by the studio here. Find out more about Grana here.
Related Recordings Posts
The string quartet Hawktail soars above the New Acoustic Music plain.

Read More
John Reischman and the Jaybirds soar through gospel, old-time, bluegrass, and Beatles songs on their latest recording.

Read More