Wintergrass 2022 Is On!
Join Peghead Nation instructors and a cast of bluegrass, old-time, and roots music luminaries for a fun weekend of performances and workshops in Bellevue, Washington, February 24 - 27.
By: Dan Gabel
January 26, 2022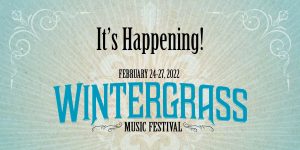 The four-day Wintergrass Music Festival is happening this year, February 24 – 27, 2022, at the Hyatt Regency in Bellvue, Washington. Peghead Nation is proud to sponsor the extensive Workshop program at the Festival, and we're looking forward to a fun weekend of music, with great performances from an impressive lineup of old-time, bluegrass, and roots musicians, instructional workshops and intensives, and jamming. In addition to the in-person event, Wintergrass will also be streaming shows from the Grand Ballroom live online.
The lineup of official Wintergrass performers includes several Peghead Nation instructors.  Danny Barnes will be on hand as part of the Dawg Trio, with David and Sam Grisman. Joe K. Walsh is joining his compatriots in the great ensemble of Mr. Sun.  Bruce Molsky is playing a solo set and appearing with his trio pals Tony Trischka and Michael Daves. And folk legends Marcy Marxer and Cathy Fink will be playing and teaching their way through the entire weekend! Also performing are Della Mae, Laurie Lewis and The Right Hands, Eli West, AJ Lee and Blue Summit, Jake Blount, and many more.
In addition to the concerts, Wintergrass also features dozens of instruction Workshops as well as Wintergrass Intensives, which allow intermediate-to-advanced students to study with some of today's most sought-after instructors and performers. Joe K. Walsh, Bruce Molsky, and Marcy Marxer will all teach intensives, so you have a great chance to supplement your learning in their Peghead Nation courses with an in-person session.
Understanding that this is a challenging time to stage an in-person event, the board and staff of Wintergrass are committed to having a safe weekend, and say the following in reference to the decision to greenlight this year's Festival:
We will hold the live event Feb. 24-27 at the Hyatt Regency in Bellevue, WA. The board and staff believe that with precautions in place by the hotel and the festival, and with cooperation from every person attending, this can be both a safe and fun festival. We know attending a live, indoor event is not for everyone at this time. We also know attending such an event is essential for the mental and emotional health of enough folks that we feel we must, and very much want to, provide this opportunity. If you are on the fence, maybe the following will help you make a decision.
Due to the nature of festival activities we feel the best way we can honor our pledge to present a fun and safer Wintergrass, is to require full vaccination for all attendees – including children ages 5 and up. It is our sincere hope that anyone willing to get vaccinated, will also take the next step to protect themselves and everyone around them and follow the CDC guidelines to stay up to date and get the booster as soon as they are eligible.
Every attendee, including artists, volunteers, jammers, sponsors, exhibitors, guests, and fans, must be fully vaccinated.
In order to attend Wintergrass, or to enter indoor establishments in King County, you must provide proof of vaccination. King County accepts proof of a negative test; we will not.
When you check-in at the festival you'll be issued a proof of vaccination wristband. You'll only have to provide this proof once.
Everyone must wear a mask over the nose and mouth while in public spaces, including concert halls and workshop rooms.
Tickets to the livestream are on sale now here: https://boxoffice.mandolin.com/products/wintergrass-early-bird-livestream-ticket-series-pass 
Tickets to the in-person event are on sale now here: https://www.eventbrite.com/e/wintergrass-2022-tickets-165175483317
Peghead Nation is a proud Wintergrass sponsor and we look forward to seeing you in Seattle.
Related Events Posts
Peghead Nation instructors join over a hundred bluegrass luminaries in a 48-hour livestream to raise money for the CBA Youth Academy, starting Friday, January 8 at 5 PM Pacific.

Read More
Bill Evans, Catherine Bowness, Allison De Groot, and John Bullard celebrate the artistry of the five-string banjo with an online concert and workshops on November 14.

Read More