Watch the California Bluegrass Association 48-Hour Jam-a-Thon
Peghead Nation instructors join over a hundred bluegrass luminaries in a 48-hour livestream to raise money for the CBA Youth Academy, starting Friday, January 8 at 5 PM Pacific.
By: Dan Gabel
January 6, 2021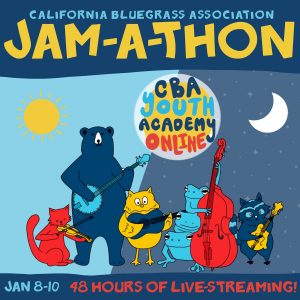 The California Bluegrass Association is hosting a Jam-a-Thon starting Friday, January 8 at 5 PM Pacific Time, with 48 HOURS of livestreamed performances, workshops, and jams on the CBA's Facebook and YouTube channels, with over 1o0 leaders in the bluegrass and roots music community. The stream is free, and the event is accepting donations on behalf of the California Bluegrass Association's Youth Academy, which builds the future of bluegrass by providing top-notch musical education for a diverse pre-teen and teen population. The program has been canceled for two years because of the pandemic, so the CBA is building a new website and educational programs for their students.
Joining the amazing lineup are several Peghead Nation instructors, including Evie Ladin, Chad Manning (with his son Jasper and with students from Manning Music), Joe K. Walsh and Grant Gordy, Marcy Marxer and Cathy Fink, and Wes Corbett. See the lineup at the Jam-a-Thon website.
The livestream kicks off Friday, Jan. 8 at 5:00 PM Pacific Time and doesn't stop until 5:00 PM Sunday, January 10.
This historic event will also feature IBMA award winners Laurie Lewis, Kathy Kallick, Abigail Washburn, Bela Fleck,  Danny Paisley, Darin & Brooke Aldridge, Alan Bibey, Missy Raines, Deanie Richardson, Tina Adair, Becky Buller, Sierra Hull, Front Country, members of Sister Sadie, Della Mae, and Wood & Wire. Missy Raines leads a bass hang with Mike Bub, Marshall Wilborn, and Vickie Vaughn.
WHO: Over 100 of your favorite world-class Bluegrass stars
WHAT: Free 48-Hour Bluegrass Livestream Jam-a-Thon
WHEN: Friday, January 8 at 5:00 pm PST to Sunday, January 10, 2021 at 5:00 pm.
WHERE: CBA Facebook page and YouTube; details at www.jam-a-thon.com
WHY: Spread the love of Bluegrass music through youth education
Related Events Posts
Join Peghead Nation instructors and a cast of bluegrass, old-time, and roots music luminaries for a fun weekend of performances and workshops in Bellevue, Washington, February 24 - 27.

Read More
Bill Evans, Catherine Bowness, Allison De Groot, and John Bullard celebrate the artistry of the five-string banjo with an online concert and workshops on November 14.

Read More