Report from the Fretboard Summit
Photos and thoughts from a weekend of guitar love and geekery on the California coast.
By: Dan Gabel
November 12, 2015
Peghead Nation was on hand at the first Fretboard Summit November 6–8 at the Costanoa Resort in Pescadero, California. The event was the brainchild of The Fretboard Journal's publisher Jason Verlinde and a celebration of the ten-year anniversary of his high-end magazine, which covers and caters to the folks who build, play, collect, and love the guitar and other fretted instruments.
Jason wanted the Fretboard Summit to bring much of the magazine alive for a weekend, so he invited some of his favorite musicians, builders, industry figures, and aficionados to create a hands-on, interactive experience for fans of the magazine. Kind of like throwing a big family reunion, if your family happens to include some of the most talented guitarists and craftspeople around. Peghead Nation's role was to provide attendees with hours of hands-on workshops where they could learn fingerstyle, flatpicking, guitar theory, and more.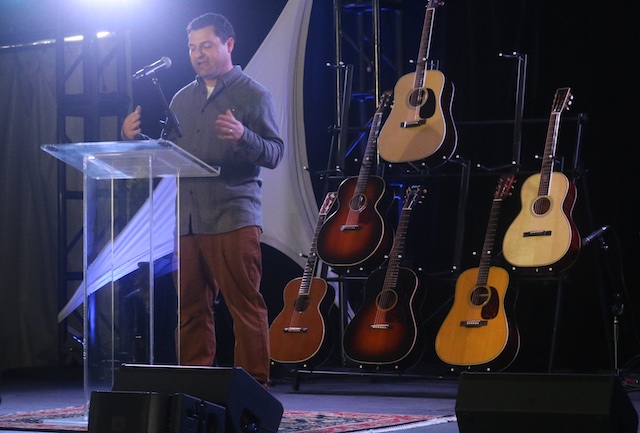 Jason Verlinde
(photos by Dan Gabel except where noted)

The Costanoa setting was a big part of the experience. This resort sits about a half-hour north of Santa Cruz, with only Highway 1 separating the spacious grounds from the cliffs and crashing surf of the Pacific Ocean. Costanoa has two beautiful redwood lodges and a few other buildings in that style, which were well-suited to hosting the Summit's simultaneous events throughout the weekend. Aside from the lodges, on-site accommodations included Costanoa's tent bungalows: basically, canvas tents with a wooden frame and, thankfully, electric blankets on the beds. Given the weekend's sub-50-degree evenings, the tent bungalows added to the adventurous spirit of it all. There were also fire pits and other gathering spots for informal jams and song circles.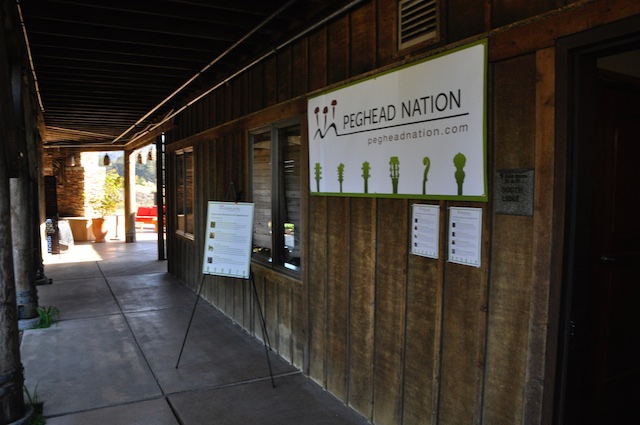 Photo above by Tom Perry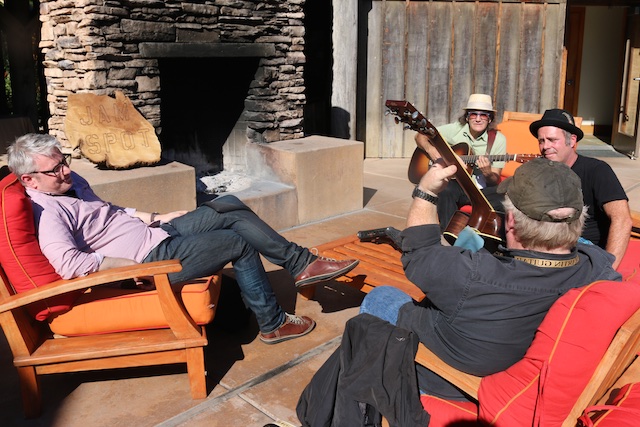 In a departure from recent guitar shows like the Healdsburg Guitar Festival and Woodstock Invitational Luthier Showcase, the Fretboard Summit focused on the stories and personalities in the contemporary luthier world. Instead of having hundreds of luthiers displaying and selling their guitars, the Summit featured long-form discussions with leading guitar builders, such as Bill Collings, Richard Hoover (Santa Cruz Guitars), Paul Reed Smith, and Jeff Traugott, which gave it the feel of a Fretboard Journal feature interview with the rare opportunity to ask questions and interact with the builders. I walked away from the discussions I caught with new insight into these masters' approaches, making me appreciate the instruments they build more than ever. I even got some helpful advice from Bill Collings about what fretwire to use for an imminent refret on my 2008 Collings MT2 mandolin, and there were conversations like this all weekend long.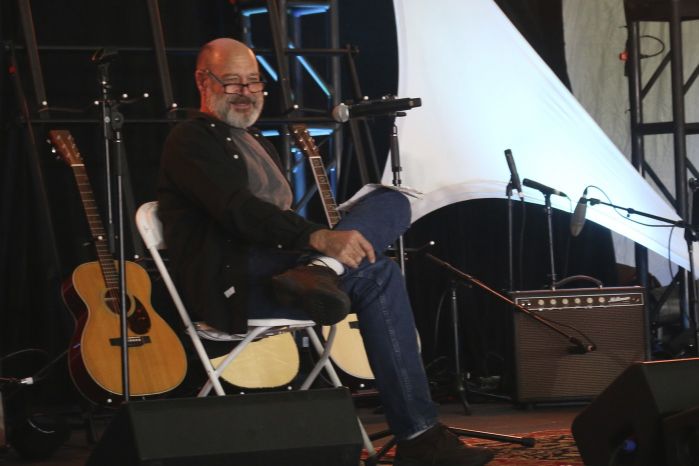 Bill Collings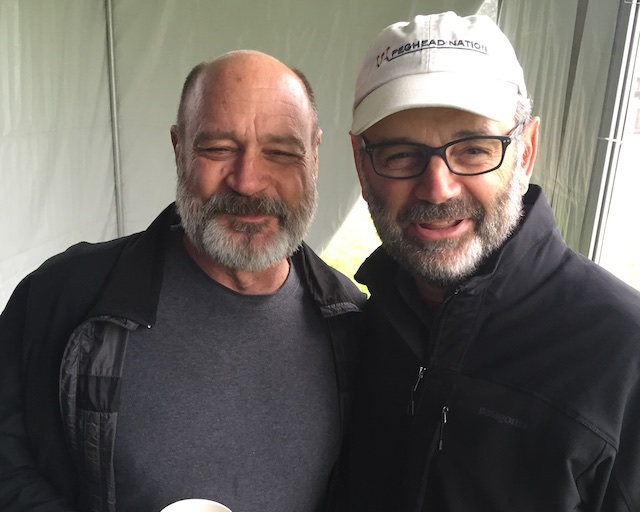 Bill Collings with Jay Hostetler of Stewart-MacDonald (in the nice hat)

In one of the more unusual and hands-on sessions, Dana Bourgeois talked to a group of guitar lovers about how to voice a top, with an in-depth discussion and description of the process, before handing out chisels and guitar tops to a dozen or so lucky attendees who proceeded to shave braces and try to put into practice what Dana had just described. Among those with sharp objects in their hands were flatpicking ace Bryan Sutton and Della Mae guitarist Courtney Hartman, who were due to perform shortly after they finished voicing guitar tops. Thankfully, no fingers were nicked or damaged in the process!
Ryan Fitzsimmons and Dana Bourgeois

There were plenty of other presentations as well, from Mass Street Music's Jim Baggett leading a discussion of repair and restoration to a discussion of how Hawaiian music influenced the development of acoustic and electric guitars in the early 1900s. Talks ventured from the history of the instrument to sonic theory and more, and there were plenty of opportunities for the most gear-oriented fans to get a heavy dose of inside information.
Of course, the main attraction for many was the music made on these instruments.The performance lineup was stellar by any measure, and more impressive when considering that those on stage were among the first folks Verlinde called when planning the Summit. The first night featured sets from David Crosby, Bill Frisell, Courtney Hartman, Marcus Eaton, and a duo set from trad jazz master Matt Munisteri and Frisell. The performances were spontaneous and loose, and the artists were clearly happy to be surrounded by all the guitar love. Frisell and Munisteri's set was completely unrehearsed, and brilliant. Judging from Frisell's grin throughout the entire 45 minutes, it was a lot of fun onstage, too. Even Crosby's ribbing of Verlinde and mostly good-natured jibes about the cold had the feeling of family banter, and Crosby rose above the weather-induced tuning difficulties for a moving performance.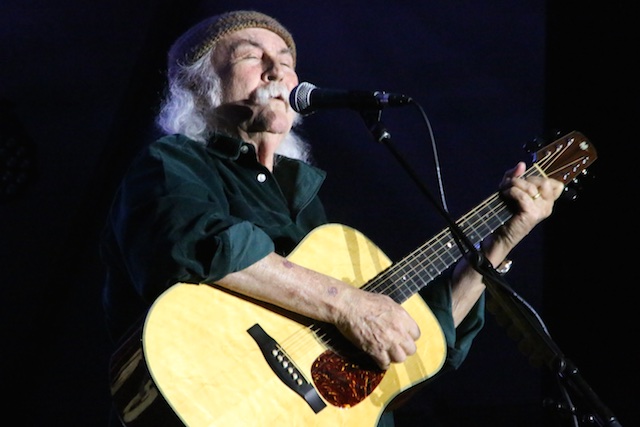 David Crosby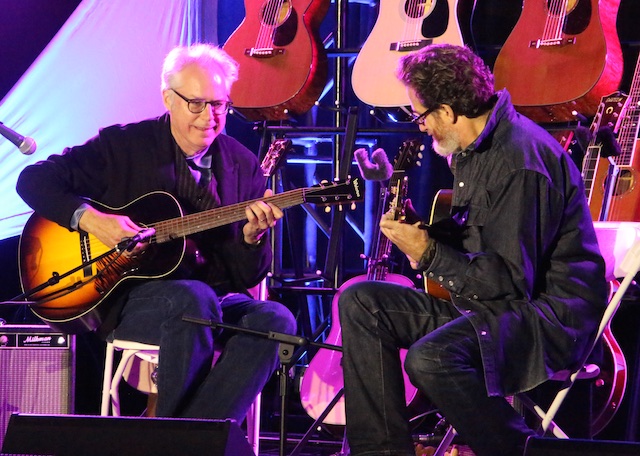 Bill Frisell and Matt Munisteri

Saturday night's performers were Munisteri, Joe Henry and Bill Frisell, Blake Mills, and Bryan Sutton (both solo and with Courtney Hartman). The night ended with an everyone-to-the-stage jam that put into perspective just what a special gathering we were witnessing. Peghead Nation's Scott Nygaard joined Saturday night's performers on a bluesy "Sittin' on Top of the World," and again, it looked like everyone onstage was having as much fun as the few hundred lucky attendees. The Summit's performances wrapped up on Sunday with sets from Julian Lage and TK Smith, and from Mark Goldenberg and Eric Skye. The last set of the celebration was a rousing collection of songs and tunes from Julian Lage and Chris Eldridge.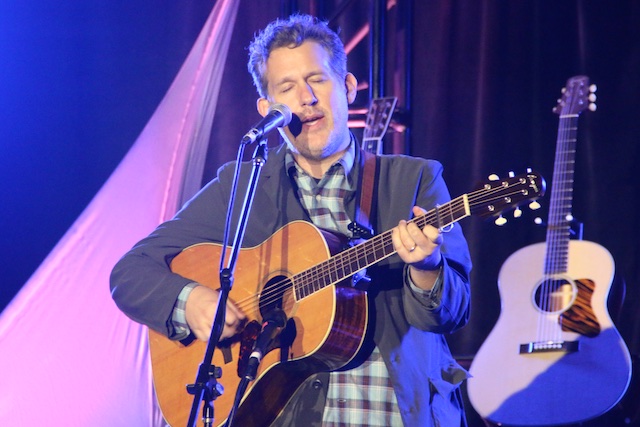 Bryan Sutton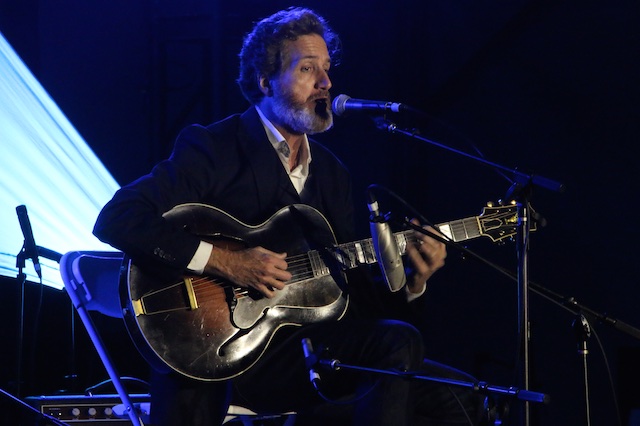 Matt Munisteri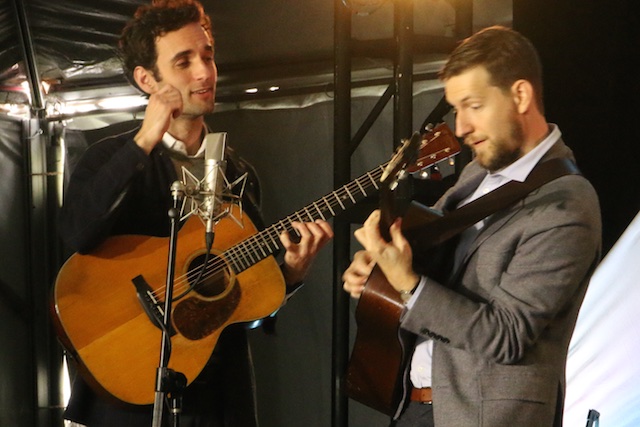 Julian Lage and Chris Eldrige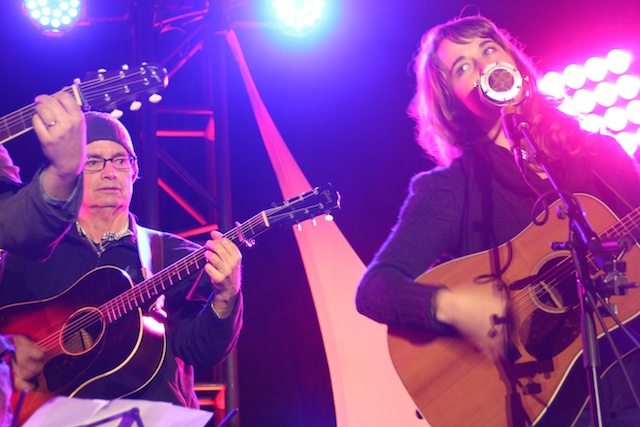 Scott Nygaard and Courtney Hartman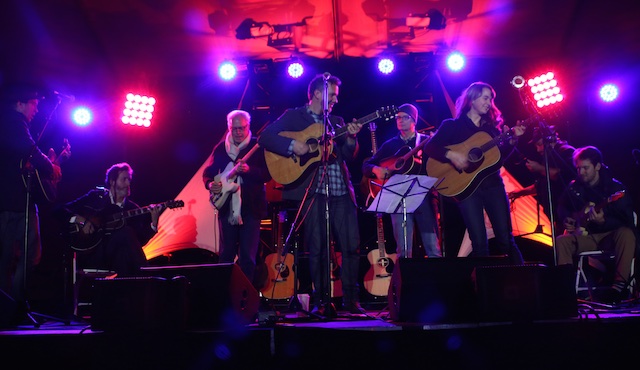 Joe Henry, Matt Munisteri, Bill Frisell, Scott Nygaard, Courtney Hartman, Blake Mills

The Peghead Nation contingent contributed eight hours of instruction throughout the weekend. We were thrilled to have dozens of participants for all our workshops; some of them brought guitars, while others just listened, took notes, and recorded the sessions. Our Fingerstyle Guitar instructor Stevie Coyle took folks through the basics of alternating bass/Travis fingerpicking, giving great tips on palm-muting, independent thumb movement, and articulating melodies on the upper strings (click here for a video excerpt from Stevie's workshop). Peghead Nation co-founder and flatpicking guru Scott Nygaard presented a session that focused on pick technique, including the nuances of using the arm for string-to-string movement and wrist for smaller movements. He also presented another workshop on understanding the fretboard, with tips on how to think about scales and craft solos as you move through positions up the neck.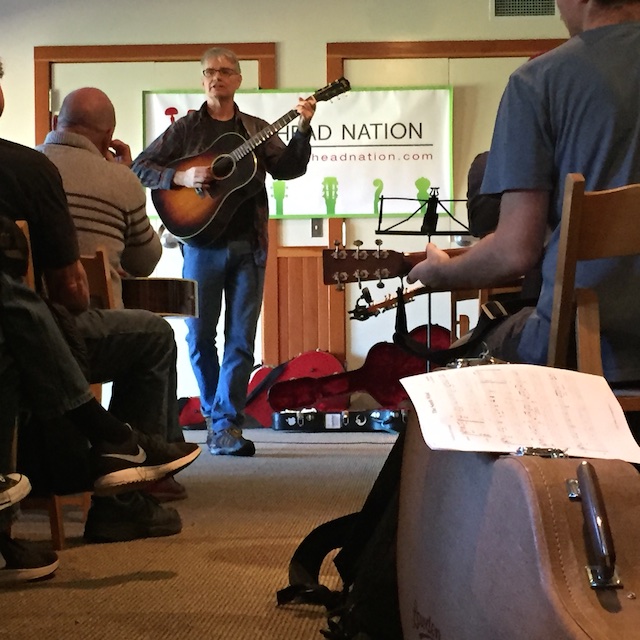 Scott Nygaard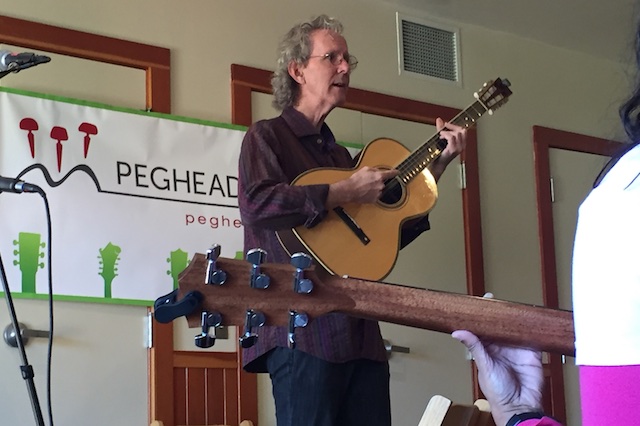 Stevie Coyle
Co-founder and Advanced Fingerstyle Workshop host Teja Gerken kicked off our workshops with an introduction to alternate tunings, giving folks a taste of tunings from dropped-D to DADGAD to several other open- and alternate tunings. He also presented a workshop on extended fingerstyle techniques like slapping, tapping, harmonics, and more that had many in the room experimenting and tapping away on their instruments. Finally, our Guitar Theory instructor Mark Goldenberg walked Summit attendees through the basics of guitar harmony, and brought his duo partner Eric Skye up to play selections from their brilliant album Artifact.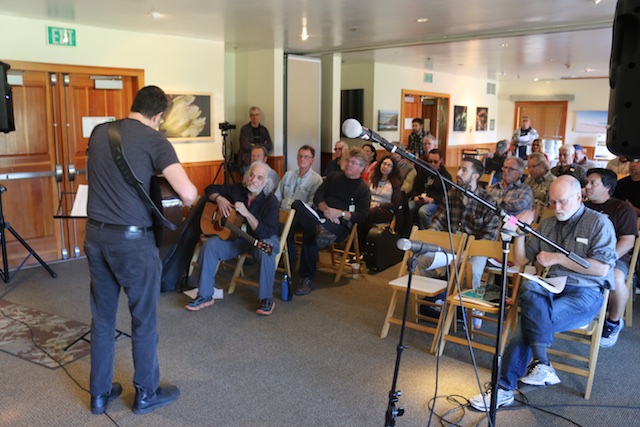 Teja Gerken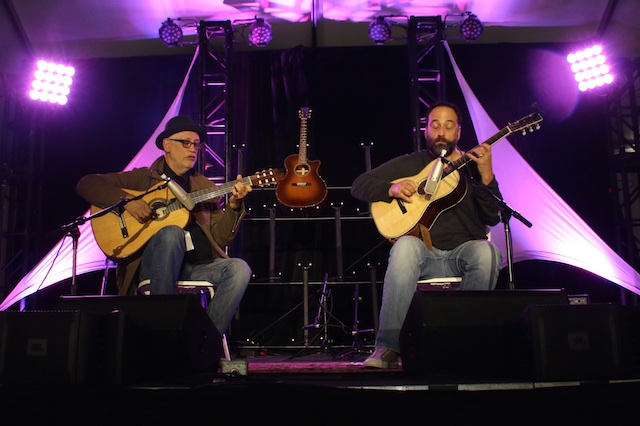 Mark Goldenberg and Eric Skye
For Peghead Nation, the Fretboard Summit was a satisfying and inspiring event. Our goal is to teach folks how to play the instruments they love and to inspire them to dive deeper through informative instrument demos, inspiring performances, and introductions to new music. All of this was present at the Fretboard Summit, and we were happy to be a part of it. It was also heartening to see the divide between some of the "stars" of this roots music world and the "everyday" players and lovers of the instrument melt away when thrown together for a weekend. Kudos to Jason Verlinde and The Fretboard Journal for pulling this off.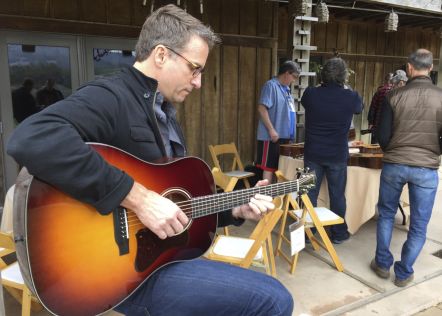 The author, thinking he should have this guitar. (Photo by Tom Perry)

Related Events Posts
Join us for hands-on guitar instruction with Tony McManus, Scott Nygaard, Courtney Hartman, Matt Munisteri, and Mark Goldenberg.

Read More
Peghead Nation hosts the Santa Cruz Guitars founder and one of their signature artists live on Facebook, Friday, December 11 at 3 PM Pacific Time, for a special conversation.

Read More