Peghead Nation Workshops at the Fretboard Summit
Join us for hands-on guitar instruction with Tony McManus, Scott Nygaard, Courtney Hartman, Matt Munisteri, and Mark Goldenberg.
By: Dan Gabel
October 4, 2016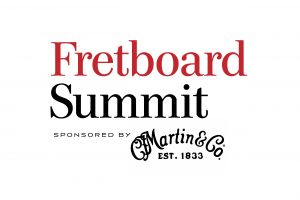 Fretboard Journal is holding the second annual Fretboard Summit October 14–16 at the Rancho Bernardo Inn in San Diego, and Peghead Nation will there with a program of hands-on guitar instruction in flatpicking, fingerstyle, Celtic guitar, jazz, guitar theory, and more. We're excited to have Peghead Nation instructors Tony McManus, Mark Goldenberg, Joe K. Walsh (with Grant Gordy), and Scott Nygaard on hand for the weekend, as well as special guests Courtney Hartman, guitarist and songwriter in Della Mae, and early jazz guitar expert Matt Munisteri. See our lineup of workshops below.
The Fretboard Summit is a great time, as you can tell from our report about the event last November. Guitar lovers will take over the Rancho Bernardo Inn, and the grounds will be converted to demonstration and lesson rooms, performance and interview stages, jam spots, pop-up museums, and much more.
Peghead Nation Workshops at the Fretboard Summit
Friday, October 14
Arranging for a Duet with Joe K. Walsh and Grant Gordy
Guitarist Grant Gordy and Peghead mandolin instructor Joe K. Walsh frequently play as a duet. In their duo arranging they draw inspiration from classic guitar and mandolin duets, as well as classic jazz duet partners. In this session they'll dissect their approach to finding arrangements that serve the song and complement their styles.
Fingerstyle Jazz with Mark Goldenberg
Learn some of the harmonic concepts and chordal shapes and sounds that define solo jazz guitar played fingerstyle, and learn how to combine them with jazz and pop melodies and improvisation. Taught by one of the most respected touring and recording guitarists around.
Bluegrass Guitar Soloing 101 with Scott Nygaard
Learn a simple method for playing melody-based solos on bluegrass songs, applicable for most levels of players who have started to pick out melodies on the guitar. Starting with a song's basic melody, you'll learn how to flesh it out with lead-in runs, crosspicking, place-holder licks and strums, melodic variations, improvised lines, and more.
Celtic Fingerstyle Guitar with Tony McManus
Peghead Nation's Celtic Guitar instructor shows some of the key concepts and techniques that underlie Celtic guitar music. He'll explore the differences in rhythm between jigs, reels, and other Irish and Scottish forms; tonality of Celtic music, including which modes are used and why; and picking-hand triplets, trills, grace notes, and other ornamentation commonly heard in Irish and Scottish music.

Saturday, October 15
Solo Flatpicking Accompaniment with Courtney Hartman
The Della Mae guitarist is one of the hottest young flatpickers on the scene, but she's also an inventive accompanist, songwriter, and singer. In this workshop, Courtney talks about creating interesting solo accompaniment parts for your songs, as well as how to flesh out simple (and not so simple) melodies with a flatpick.
Improvising for Solo Guitar with Eric Skye
Fingerstyle guitarist Eric Skye is known for, among other things, his reimagining of Miles Davis' classic Kind of Blue for solo guitar. In this workshop he shares his ideas and techniques for using a jazz approach to improvising on blues, Americana, and contemporary styles as a solo guitarist.
Alternate Tunings in Celtic Music with Tony McManus
Celtic guitarists use a variety of alternate tunings, from simple dropped-D tuning to more obscure tunings like DAAEAE, a tuning Tony McManus uses to emulate the bagpipes. Tony demonstrates some of his favorite tunings and talks about why he chooses one over another for creating different sounds in Irish and Scottish music.
Hot Jazz Guitar with Matt Munisteri
Matt Munisteri's early jazz style is rooted in the guitar styles of 1920s and '30s jazz plectrum guitarists Eddie Lang, Nick Lucas, George Van Eps, and others. In this workshop, he shows you how features of their chord-melody voicings, rhythm playing, single-line phrasing, and pick techniques can be applied to any style of acoustic guitar playing.
In addition to our workshops, the Summit will feature a lineup of speakers and performers including Laurence Juber, David Crosby, Bob Minner, Matt Munisteri, Courtney Hartman, Anthony Wilson, and Dori Freeman. Luthiers and speakers include TJ Thompson, Dick Boak of Martin Guitars, Tim Luranc and Andy Powers of Taylor Guitars, Bill Collings, Rick Turner, Dana Bourgeois, luthier Howard Klepper, and many others.
We hope to see you there!
Related Events Posts
Photos and thoughts from a weekend of guitar love and geekery on the California coast.

Read More
Peghead Nation hosts the Santa Cruz Guitars founder and one of their signature artists live on Facebook, Friday, December 11 at 3 PM Pacific Time, for a special conversation.

Read More