Register for The Banjo Style of J.D. Crowe With Bill Evans | 8-Session Zoom Workshop
Learn the tunes and techniques of one of the most influential bluegrass banjo players, with Bill Evans and special guests Ron Block and Ron Stewart.
By: Dan Gabel
December 18, 2022
Peghead Nation is excited to announce an eight-part live Zoom workshop series taught by Peghead Nation banjo instructor (and 2022 Steve Martin Banjo Prize winner) Bill Evans, called The Banjo Style of J.D. Crowe.
Next to Earl Scruggs, J.D. Crowe is the most influential five-string bluegrass banjo player in the history of the instrument and The Banjo Style of J.D. Crowe will provide an overview of his long career, teaching tunes and techniques from J.D.'s earliest days with Jimmy Martin through his classic recordings with The New South and his remarkable work with The Bluegrass Album Band. 
Special guests will include Ron Block, best known for his banjo and guitar playing with Alison Krauss and Union Station, and Ron Stewart, who is currently playing banjo with Seldom Scene and who played fiddle with J.D. Crowe for more than eight years. They will provide valuable insights into J.D.'s approach by demonstrating solos, licks, and techniques.
The live sessions of The Banjo Style of J.D. Crowe will be held on Zoom every other Wednesday from 5 pm to 6:15 pm Pacific Time (8 pm to 9:15 pm Eastern Time), starting on Wednesday, January 18, 2023, and ending on May 10, 2023. Video recordings of each session will be available to all students so you can review what you've learned or catch up if you need to miss a session.
The fee for the eight-part workshop is $200 and, in addition to admittance to all live workshops, students will receive PDFs (notation and tab) related to each session, in-depth listening recommendations from Bill, and access to the recordings of each workshop. Workshop recordings will be available to students within a week after each class, and you will retain permanent access to all video and written materials after the live workshops have ended.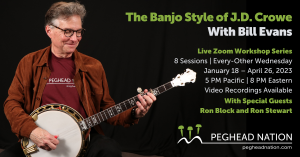 This course has been approved and endorsed by the Crowe family. J.D. had agreed to take part in a workshop series that was originally planned for early 2022, but his health concerns made it impossible for him to participate. J.D. had encouraged Bill to present the series on his own at a future date, and this workshop is the result. 
Here are some of the tunes Bill will cover in the course: 
"You Don't Know My Mind" (two solos), "Blue Ridge Cabin Home" (two solos), "Free Born Man," "Black Jack," "Molly and Tenbrooks, "Bear Tracks," "Hold Watcha Got," "The Old Home Place," "Dark Hollow," and "Come Back Darling."
Bill says, "We'll also take a deep dive into J.D.'s right- and left-hand techniques (pick angles, wrist arch, note separation, muting techniques, pull-offs, etc.), his rhythmic approach and accenting, back up, and much more. In addition, we'll explore J.D.'s approach to country-style tunes and slow-song back up and cover the many blues-influenced licks that expanded the vocabulary of bluegrass banjo and influenced generations of banjo players. 
"While we're tracing J.D.'s evolution as a player through his career of more than 50 years, we'll also be learning about his life by reading Marty Godbey's Crowe on the Banjo: The Music Life of J.D. Crowe. In addition to working on solos from J.D.'s recordings, we'll also use selected YouTube performances to focus on J.D.'s right-hand technique, left-hand fingering, banjo tone, and much more." 
Bill Evans is an internationally recognized five-string banjo life force and a winner of the 2022 Steve Martin Banjo Prize. As a performer, teacher, writer, and composer, he brings a deep knowledge, intense virtuosity, and contagious passion to all things banjo, with thousands of music fans and banjo students all over the world, the product of a music career that spans more than 35 years and includes appearances with David Grisman, Peter Rowan, Tony Trischka, Dry Branch Fire Squad, Mike Seeger, Hazel Dickens and Alice Gerrard, Laurie Lewis, Jody Stecher, and many others. Bill has a master's degree in music from the University of California, Berkeley, with a specialization in American music history and he has been a scholar/artist in residence at many universities across the United States. He is also the author of Banjo for Dummies, the most popular banjo book in the world.
Learn banjo with Bill Evans in his other Peghead Nation courses, Beginning Banjo, Bluegrass Banjo, Earl Scruggs: A Player's Guide, and Melodic and Single-String Banjo.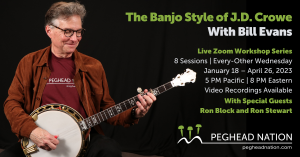 Related Events Posts
Explore the essential skills for playing clawhammer banjo in jams of any style, including playing backup, tuning quickly, and more!

Read More
Peghead Nation is sponsoring Porch Pride 2021 and a special all-levels virtual jam.

Read More