Peghead Nation is One Year Old!
September marks our one-year anniversary and we thank you for being a part of Peghead Nation.
By: Dan Gabel
September 9, 2015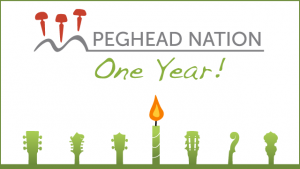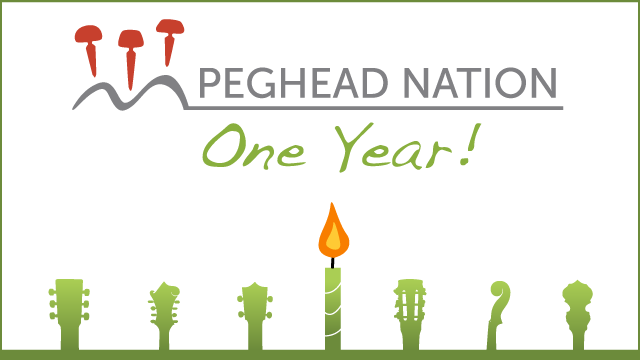 A year ago today we hit a few keyboard strokes and made PegheadNation.com live for the world of roots musicians to check out. We'd spent a year planning what we thought Peghead Nation could and should be, creating a lot of amazing lesson material with some of the most talented players and instructors around, and building a website that felt user friendly and relatively easy to move around in. We had told a lot of folks what we were doing, both in our personal circles and through Facebook, Twitter, and other means, but we hadn't shown more than a handful of site testers the finished (for that moment) site. So "hitting the button" on September 9, 2014 was both exciting and nerve wracking, kind of like walking onstage to perform in front of a lot of people that you hope will listen to what you've been working on and maybe get excited or inspired by what they witness. We hoped that you, Pegheads of the world, would get something out of this Nation that we'd been quietly building.
Almost immediately after PegheadNation.com went live, you started to show up to take our Sample Lessons, watch some of our early instrument and gear demos, and check out some of the in-studio performances videos we'd shot. And you started to take courses to learn how to play your guitar, mandolin, banjo, fiddle, dobro, or ukulele better. Many of you started two or three courses, choosing different styles of multiple instruments. That's what we'd hoped for.
Year one has gone incredibly fast and while we're not going to overdo it with self-congratulations about making it a whole 12 months, we do want to pause for a moment and say a simple "thanks" to you. You've visited the site. You've subscribed to one of our 19 (and counting) String School courses. You've contributed to the Indiegogo campaign that helped us build Peghead Nation in the first place, and you've advertised and partnered with us since the launch. You've shared some of our 800 lesson, gear, and performance videos; re-Tweeted us; liked a Facebook post; subscribed to our email newsletter; and sent requests, critiques, and appreciation. You've done a hundred things large and small to say "I think I'm a Peghead" and to help get the word out about our dream. We appreciate it all and we appreciate you.
There will be a few things happening this month to celebrate this one-year milestone, so as always, please stay tuned (ha). In the meantime, we hope you keep enjoying the site and spreading the word while we keep bringing the best roots music instruction, gear information, and news your way. This is all just getting started and we plan on bringing a lot more Pegheads into the fold to join you. Thank you.
And you don't have to question it anymore . . . you're definitely a Peghead.
Related Events Posts
Peghead Nation is sponsoring Porch Pride 2021 and a special all-levels virtual jam.

Read More
Learn hot jazz, Western swing, and more with our jazz guitar and mandolin instructors in this wide-ranging workshop.

Read More