Announcing the 2017 Peghead Nation Mandolin Camp
Join us in Yosemite for a weekend of mandolin instruction with John Reischman, Sharon Gilchrist, and Joe K. Walsh, October 19 – 22, 2017. Sign up for email updates!
By: Dan Gabel
July 16, 2017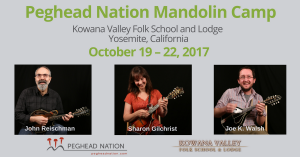 We're excited to announce the first Peghead Nation mandolin camp, scheduled for October 19–22, 2017 at the beautiful Kowana Valley Folk School and Lodge, just minutes from Yosemite National Park in California.
Teaching at this year's camp are Peghead Nation mandolin instructors Sharon Gilchrist, John Reischman, and Joe K. Walsh. These three in-demand instructors are putting together a weekend of immersive sessions focusing on improving your mandolin technique, developing your repertoire, and honing your overall musicianship. In addition, Peghead Nation co-founder and guitar instructor Scott Nygaard will be on hand to teach group guitar sessions for those interested in learning guitar.
Nestled in a beautiful valley just outside Yosemite National Park, the Kowana Valley Folk School and Lodge is the perfect place to strip away distractions and focus on your playing. Its 300 acres are crossed by Sierra streams, forested hiking trails, and open alpine meadows, providing an ideal environment for studying with these amazing instructors and learning with your fellow students. You'll have the chance to stay in the Lodge's private and semi-private housing, or to enjoy the outdoors by camping on-site.
We're putting the finishing touches on details and the program for the first Peghead Nation Mandolin Camp, so sign up for email updates below and you'll be among the first notified about details. You'll also be among the first people we inform when it comes time to reserve your space in this exclusive camp—only 25 spaces will be granted.
Sign up below for more information, and start making plans to get to Yosemite this fall!
Related Events Posts
Peghead Nation is sponsoring Porch Pride 2021 and a special all-levels virtual jam.

Read More
The great violin and mandolin duo took over our Facebook feed recently to play a few tunes and talk about their fine new album, "Curios."

Read More