Now Available for Subscription! Creative Jam Skills with Lauren Rioux and Brittany Haas
Up your game as a melody player, backup player, and improviser, exploring new tunes, embellishment ideas, accompaniment techniques and more!
By: Dan Gabel
February 6, 2023
Last fall, fiddling pedagogue Lauren Rioux and bluegrass fiddle star Brittany Haas taught a live workshop series called Creative Jam Skills. The entire workshop, including over nine hours of video content, notation and tablature, listening recommendations, and more is available for subscription on Peghead Nation.
In this six-session workshop, you'll learn new tunes as a vehicle for upping your game as a melody player, backup player, and improviser. You'll explore different avenues for expressing yourself as an instrumentalist and work on your skill set as a musical collaborator. The Creative Jam Skills workshop series is designed for intermediate to advanced players who want to work on their jamming and improvising skills. It is taught primarily on fiddle but can be helpful for players of any instrument. Please join us for this unique, deep dive into learning how to jam!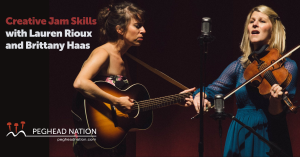 Lauren and Brittany have this to say about their workshop: "We'll start with a tune, and add in some possible embellishments (double stops, ornaments, accents, slurs!). Then we'll show you the chords (or what chords we like to play with it), explore some of our favorite rhythm back-up patterns and techniques, talk about soloing concepts, and do some exercises to expand your approach to taking a solo."
Lauren Rioux is perhaps most well-known for her online string education site JamwithLauren.com, which provides students with an innovative curriculum, gorgeous learning materials, and her inimitable teaching style. Brittany Haas is widely regarded as one of the most influential fiddlers of her generation. She has recorded and performed with Steve Martin, David Rawlings, Punch Brothers, and Béla Fleck, among many others; was a member of the house band for Live From Here; and was the Americana Music Association's 2020 Instrumentalist of the Year. Lauren and Brittany became close friends in 2005 at the Mark O'Connor Fiddle Camp, and both cut their stringband teeth playing second fiddle in Darol Anger's Republic of Strings. They have toured together as a duo, produced solo albums for each other, and continue to collaborate on various teaching projects.
Related Breaking News Posts
We're honored to be recognized by bluegrass music's leading industry organization and our community!

Read More
Explore new lessons, tunes, and techniques from Peghead Nation's expert instructors.

Read More