Join Us at Wintergrass 2023
Peghead Nation will be on hand in Bellevue, Washington, February 23 - 26 for a weekend full of performances, workshops, jamming, and fun!
By: Dan Gabel
February 9, 2023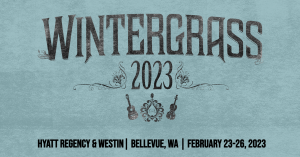 The four-day Wintergrass Music Festival is happening this year, February 23 – 26, 2023, at the Hyatt Regency and Westin in Bellvue, Washington. Peghead Nation is proud to sponsor the extensive Workshop program at the Festival, and we're looking forward to a fun weekend of music, with great performances from an impressive lineup of old-time, bluegrass, and roots musicians, instructional workshops and intensives, and jamming. In addition to the in-person event, Wintergrass will also be streaming select shows live online.
The lineup of official Wintergrass performers includes some Peghead Nation instructors.  Stash Wyslouch will be on hand as part of the Jacob Jolliff Band, and Bruce Molsky is playing with Fiddlers Four (Michael Doucet, Darol Anger, Bruce Molsky and Rushad Eggleston). And fiddling master Brittany Haas will be playing and teaching her way through the entire weekend! Also performing are Jerry Douglas, Darrell Scott Bluegrass Band, Henhouse Prowlers, The Cactus Blossom, Tray Wellington, and many more.
In addition to the concerts, Wintergrass also features dozens of instruction Workshops as well as Wintergrass Intensives, which allow intermediate-to-advanced students to study with some of today's most sought-after instructors and performers. Bruce Molsky and Brittany Haas will teach intensives, so you have a great chance to supplement your learning in their Peghead Nation courses with an in-person session.
Tickets for the entire weekend and to single shows are now available here: https://wintergrass.com/tickets-2023/
Peghead Nation is a proud Wintergrass sponsor and we look forward to seeing you in Seattle!
Related Breaking News Posts
Check out new lessons, tunes, and techniques from Peghead Nation instructors.

Read More
Peghead Nation instructors release hours of new material for you to dig into this month!

Read More