Improvising for Fiddlers and Violinists with Alisa Rose Now Available for Subscription
Explore the fundamentals of improvisation through musical games, simple exercises, and playing familiar fiddle tunes.
By: Dan Gabel
August 10, 2022
Earlier this year, fiddler and composer Alisa Rose taught an eight-part workshop series called Improvising for Fiddlers and Violinists. We recorded all of the sessions (10+ hours of instruction), and you can now subscribe to this workshop to receive all the original video lessons, notation files, listening recommendations, and audio tracks that Alisa shared with her students. Take a look at Alisa's course introduction video above, and go to the main Improvising for Fiddlers and Violinists page to join the course with a monthly or annual subscription.
In this eight-session workshop, you'll learn to improvise and connect to your own creative impulses through musical games, simple exercises, and fiddle tunes. You'll explore improvisation fundamentals of rhythm and pitch as well as learn how to create and vary melodies, use small building blocks or motifs to build a solo, practice scales and arpeggios, and much more. These exercises can be useful for a musician of any level as they work on fundamental skills of listening deeply, understanding structure and form, and relating to pulse and pitch with awareness.
Alisa's workshop series is designed for intermediate-to-advanced violinists and fiddlers but will be worthwhile for players of other instruments as well.
Alisa's approach to improvising and practicing improvising was developed from years as a professional musician in a variety of musical contexts, including improvising on fiddle tunes with Scroggins and Rose, improvising for contemporary silent film scores with the Clubfoot Orchestra, improvising with the Real Vocal String Quartet, and as an Improvisation Ensemble instructor at the San Francisco Conservatory of Music.
Alisa has this to say about her workshop: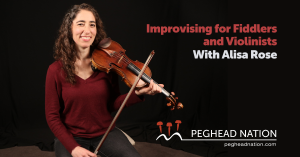 "My path into improvisation was primarily through playful exploring and following my ears. In this workshop, we play games that explore isolated fundamental aspects of improvising. I encourage you to approach these exercises, or as I call them games, with a sense of play. Please know you can do no wrong. Play all the weird notes or sounds you want to—it's part of figuring out what you want to play and freeing yourself from the eternally judging internal critic we musicians tend to have inside at all times. It can be overwhelming to be told to improvise or compose with total freedom, so these games will start with improvising with extreme limits, using only one note, or all notes and no rhythm, and we will build skills from there. I hope you can join us!"
Related Breaking News Posts
Up your game as a melody player, backup player, and improviser, exploring new tunes, embellishment ideas, accompaniment techniques and more!

Read More
Great new tunes, techniques, and lessons from Peghead Nation instructors.

Read More