About This Course
Learn to play the classic western swing rhythm style pioneered by Eldon Shamblin, as well as "twin guitar" solos from Bob Wills's guitarists and the soloing styles of greats like Junior Barnard, Jimmy Wyble, and others.
Try a Sample Lesson
Matt shows you a more advanced version of Eldon Shamblin–style backup in this video.
Meet the Instructor
Matt Munisteri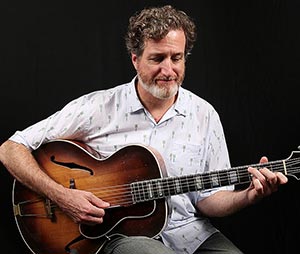 Matt Munisteri is a guitarist, singer, and songwriter based in New York City. A freewheeling and virtuosic guitarist on both acoustic and electric guitar—in music both modern and old-fashioned—he credits the early jazz plectrists of the 1920s and '30s with providing the foundation for his technique and musical direction. As one of a relatively small number of authoritative acoustic jazz guitarists playing swing and early jazz, Matt has recorded extensively and is a first-call guitarist when a "period" sound is sought for CDs, film scores, and commercials. He has performed on A Prairie Home Companion, Jazz Night in America: Jazz at Lincoln Center, E-Town, Mountain Stage, and Michael Feinstein's Song Travels.
Peghead Play-Along Tracks
Peghead Nation is creating a
library of accompaniment videos (and downloadable MP3s)
for songs and tunes that are taught on the site, classics that you'll find at many jams and picking parties. As a subscriber, you have access to this library and can use the tracks to practice playing tunes and songs at a slow or medium tempo with guitar accompaniment. New songs will be added regularly.
Western Swing Guitar Source Material
Check out these songs featured in the Western Swing Guitar course.
The Western Swing Guitar Subscription Includes:
Extensive lessons on western swing rhythm guitar, with transcriptions of Eldon Shamblin's groundbreaking chordal work
Transcriptions of twin guitar solos from songs like "Roly Poly," "Bob Wills Special," and "I Hear You Talking"
Western swing classics from Bob Wills, Leon McAuliffe, and more
Eldon Shamblin arrangements of classic songs like "Faded Love," "Panhandle Rag," "Right or Wrong," and more
New lessons added every month
High-quality video with multiple camera angles so you can see close-ups of both hands in action
Detailed notation for each lesson
Play-Along Track videos and audio downloads so you can play along with Matt
$20/Month For One Course
Additional courses only $10/month each! • Save 20% with an annual subscription
and get your first month free or $20 off an annual subscription.
Western Swing Guitar Course Outline
What Is Western Swing?
Put a Little Western in Your Swing
Eldon Shamblin–Style Fiddle Tune Backup
Sally Goodin
The Blues and Western Swing
Bob Wills Special
Eldon Shamblin's Runs: "Take Me Back to Tulsa"
I Hear You Talking
Right or Wrong