About This Course
With these video accompaniment tracks, or downloadable MP3s, you'll be able to practice some of the most popular roots, bluegrass, and old-time tunes and songs, so you'll be ready to jump into any jam or song circle. As a subscriber to Peghead Nation, you have access to all the accompaniment tracks for tunes taught in Peghead Nation courses, whether you're a subscriber to that particular course or not.
Meet the Instructor
Scott Nygaard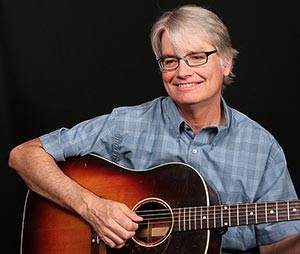 For the last 30 years, Grammy-winning guitarist Scott Nygaard has been one of the most inventive and influential flatpicking guitarists in the bluegrass/acoustic music scene. His solos, a seamless amalgam of bluegrass, folk, and jazz influences, shift easily from breathtaking virtuosity to soulful melodic musings and his accompaniment is always intriguing, supportive, and propulsive. In addition to two Rounder recordings and four self-produced collaborations, Scott was the guitarist on a number of recordings that have been extremely influential on the contemporary acoustic music scene: Chris Thile's Leading Off, Tim O'Brien's Red on Blonde, Jerry Douglas's Slide Rule, and the Republic of Strings's Generation Nation. Downbeat magazine called him "a phenomenally talented stylist."
Peghead Play-Along Tracks
Peghead Nation is creating a
library of accompaniment videos (and downloadable MP3s)
for songs and tunes that are taught on the site, classics that you'll find at many jams and picking parties. As a subscriber, you have access to this library and can use the tracks to practice playing tunes and songs at a slow or medium tempo with guitar accompaniment. New songs will be added regularly.
The Play Along Tracks Subscription Includes:
$20/Month For One Course
Additional courses only $10/month each! • Save 20% with an annual subscription
and get your first month free or $20 off an annual subscription.
Play Along Tracks Course Outline
Fiddle Tunes and Bluegrass Instrumentals
This list includes songs that are often played as instrumentals.
Bluegrass and Traditional Songs 
Many songs have similar chord progressions, so many of these tracks can be used to practice other songs not listed on this page. For example, "Bury Me Beneath the Willow," "Your Love Is Like a Flower," "I'm On My Way Back to the Old Home," and others all have the same chord progression, what we like to call "Bluegrass Chord Progression #1." So you can use "Love Is Like a Flower," for which we have Play-Along Tracks in numerous keys, to practice any other songs with that chord progression. Other common progressions include the circle-of-fifths progression used in "Don't Let Your Deal Go Down," which can be used to practice "I Know What It Means to Be Lonesome," "Salty Dog Blues," and many more. And the 12-bar blues and 16-bar blues ("Lonesome Road Blues") forms are used for many songs.
Bluegrass Chord Progression #1
Blue Ridge Cabin Home
12-Bar Blues
16-Bar Blues ("Lonesome Road Blues")
Circle-of-Fifths Progression
More Songs