Pava Mandolins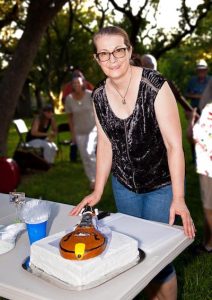 Pava Knezevic was born and raised in Croatia, a European country located at the crossroads of Central Europe, The Balkans, and the Mediterranean. In her teen years Pava wished to attend an art program at a trade school but it was far away from where her parents lived. She instead chose a carpentry school close by. After four years of trade school Pava started work as a carpenter and hasn't looked back since.
In Croatia she built custom furniture for a manufacturing firm for over ten years. In 1995 Pava and her family immigrated to the United States. She continued to work as a carpenter building and repairing furniture and cabinets for Mair Paul designs in Austin, Texas. Through her experience Pava has become familiar with all aspects of the artisanship process from initial crafting to finishing.
Pava decided to make a slight career change after living in the U.S. for a few years. Gaining employment at Collings Guitars she was first introduced to the Luthiery world. She began in the finish and sanding department. Collings quickly noticed Pava's skill and promoted her to the mandolin department where she built F-5 models.
In 2003 Pava came to work for Tom Ellis at Precision Pearl Inc. As an associate of Precision Pearl Inc. her duties included all aspects of the inlay process. Pava's talent was best reflected in her hand inlay work.
Involved from the start, it was Pava's skill that helped Tom to resurge the Ellis Mandolin brand in 2005. She is responsible for much of the hand crafting that goes into an Ellis Mandolin. Pava does binding, gluing and sanding. She also does repair work for Precision Pearl Inc. and Ellis Mandolins.
Early in 2012 Tom decided it was time Pava took the skills that she has collectively gathered through her experience. Using the same techniques that have made Ellis Mandolins one of the most sought after instruments on the market Pava is now producing her own.
Visit PavaMandolins.com to learn more.
Pava Mandolins's Blog
Matt Flinner plays a beautiful F-style Pava mandolin at Carter Vintage Guitars.

Read More
A-Style mandolin built in Austin, Texas.

Read More