Lowden Guitars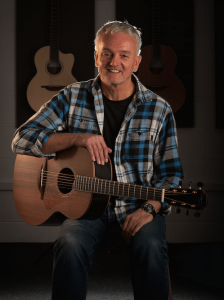 "The journey began in earnest in 1974 when I began the design and building of the first Lowden guitars in my workshop in Bangor County Down, Northern Ireland," George Lowden says. "From the very beginning I was determined to develop unique designs and not just copy well known makes."
The Lowden guitar is the result of unique design, workmanship, building techniques, and impeccable choice of woods. Today, a team of 17 skilled craftspeople (including two of George's sons Aaron and Daniel) build Lowden guitars by hand in their shop in Northern Ireland.
Design: Curvy, smooth soundbox shapes combined with carefully voiced internal bracing and soundbox profiles, and use of natural wood decorations with our unique hand rubbed satin finish all combine to make the Lowden guitar what it is today.
Workmanship: Introducing unplanned stress into any musical instrument deadens the tonal response. Our assembly techniques involve the use of hand tools to improve the quality of all joints and enable the "Dolphin Profile" voicing of the soundboard bracing. This and much much more ensures that sustain, volume and balance are not hindered in any way. No short cuts are possible, just great workmanship and attention to detail!
Wood: We still hand split our braing stock, re-grade soundboard wood, and scour the world for the best (and often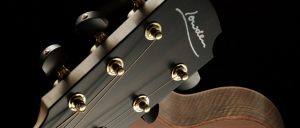 most decorative) tonewoods. These woods are the real stars of our guitars.
It is this combination of many details that determines how our guitars sound, feel, and play. Today more than ever, we are constantly evaluating our guitars and striving to further adjust the voicing, the feel and the playability. To make Lowden guitars we need a team of individuals with talent for focus and an eye for detail, plus a passionate commitment to no compromise.
Visit us at LowdenGuitars.com.
Lowden Guitars's Blog
Peghead Nation instructor Doug Young demonstrates his fingerstyle-friendly Lowden.

Read More
Zak Hobbs teaches his arrangement of "Bonnie Susie Cleland" for Lowden's Lockdown Lessons.

Read More
Zak Hobbs teaches his arrangement of "Black Mountain Rag" for Lowden's Lockdown Lessons.

Read More
Teja Gerken and Doug Young discuss the guitars used on their recent album of fingerstyle duets.

Read More
Zak Hobbs teaches simple open-string scales for Lowden's Lockdown Lessons.

Read More
The master guitarist and songwriter performs a solo version of one of his songs, live at Ulster Hall in Belfast, Ireland.

Read More
The Northern Irish guitar maker launches a program of interactive lessons and performances, with a chance to win Lowden gift cards.

Read More
The founder of Lowden Guitars talks about the beauty of the rare and regulated species.

Read More
The master guitarist and songwriter performs a solo version of one of his songs, live at Ulster Hall in Belfast, Ireland.

Read More
Pete Wallace and Colm McClean cover Glen Campbell's Wichita Lineman, both playing new Lowden guitars.

Read More
The duo from the Irish folk band Beoga perform two Irish tunes with the Lowden O-25 45th Anniversary Limited Edition.

Read More
Mid-size steel-string built with Guatemalan rosewood and Alpine spruce

Read More
The duo from the Irish folk band Beoga perform a Paul Brady classic with the Lowden O-25 45th Anniversary Limited Edition.

Read More
A parlor-size crossover nylon-string with a big sound and an LR Baggs pickup.

Read More
The fingerstyle guitar master plays a Radiohead hit live in the Lowden workshop.

Read More
This affordable parlor size guitar is a collaboration with Lowden and pop superstar Ed Sheeran.

Read More
A powerful small-body built with Sitka spruce and Indian rosewood.

Read More
George Lowden and Ed Sheeran on the friendship and collaboration that has resulted in a brand new line of guitars for aspiring musicians.

Read More
A modern small-body steel-string with a 12-fret neck, cedar top, and walnut back and sides.

Read More
Introducing a limited edition of 25 guitars made with beautiful Tiger Myrtle back and sides.

Read More
A gorgeous, powerful jumbo built with Madagascar rosewood and red cedar.

Read More
A spectacular mid-size Lowden with a cedar top and ziricote back and sides.

Read More
The songwriter plays a haunting new original song, "A Year in Weem," on the Bushmills x Lowden Black Bush Edition guitar at the Old Bushmills Distillery.

Read More
Forty years after George Lowden first built an electric guitar, Lowden Guitars introduces the all new GL-10 electric.

Read More
The guitarist from the Brothers Landreth demonstrates a beautiful Lowden F-35C with a sinker redwood top, Madagascar rosewood back and sides, and fanned frets.

Read More
Lowden Guitars introduces the new FM model, voiced for superb projection and note separation, ideal for flatpicking. Guitarist Ariel Posen demonstrates.

Read More
The percussive fingerstylist's guitar features an innovative hybrid top design.

Read More
A multi-scale baritone guitar built from African blackwood and sinker redwood.

Read More
Slack-key guitarist Stephen Inglis demonstrates his fanned-fret Lowden.

Read More
Lowden Guitars and Bushmills Irish whiskey combine forces to celebrate fine craftsmanship and legacy.

Read More
Jon Gomm talks about his three guitars with Lowden founder George Lowden.

Read More
The Lowden Guitars founder talks about cracked guitars with fingerstyle master Jon Gomm.

Read More
San Francisco Bay Area songwriter/guitarist Kyle Alden demonstrates the Lowden that's been his main guitar for more than 20 years.

Read More
An exquisite small-body steel-string with a body made from fiddleback mahogany.

Read More
The fingerstyle master demonstrates his guitar and amplification rig.

Read More
George Lowden talks about the creation of the "Genesis" guitar, built with African blackwood and sinker redwood.

Read More
The Wee Lowden is a modern parlor guitar that offers a big sound and premium woods.

Read More
Guitarist Pierre Bensusan plays part of his piece "Nefertari" at the Lowden workshop.

Read More
Guitarist Thomas Leeb gives an overview of Lowden Guitars' model lines, discussing woods, appointments, and specs for each Lowden series.

Read More
The percussive fingerstylist discusses and demonstrates his primary guitar.

Read More
The fingerstyle guitar legend demonstrates his primary six-string.

Read More
The Irish folk group plays their song "Butterflies" live at the Lowden factory, where they picked up two custom Lowden guitars.

Read More
Take a look around the Lowden Guitars workshop in Downpatrick, Co Down, Ireland, in this beautifully shot video tour.

Read More
Luthier George Lowden discusses the design of his latest model.

Read More
George Lowden is joined by guitarist Thomas Leeb for this in-depth discussion of Lowden's soundbox shapes and a demonstration of each type of guitar.

Read More
Witnessing Richard Thompson play his ode to love and an exotic motorcycle on his Lowden guitar is always a thrill. Here is a live version from Goldmark Gallery.

Read More
Every Guitar Has a Voice, Episode 2 features George Lowden talking about the properties of back-and-sides and soundboard tonewoods and how they influence the sound of a guitar.

Read More
Every Guitar Has a Voice, Episode 1 features George Lowden discussing the tonewoods he uses to build Lowden Guitars.

Read More
Fingerstyle guitarist plays her two-handed tapping tune in the Peghead Nation studio.

Read More