Froggy Bottom Guitars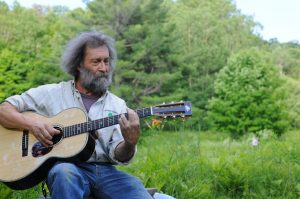 In 1970, while the shop foreman at Gurian Guitars, Michael MIllard built his first guitar in his apartment on New York's Lower East Side. The guitar's sides were bent on the traditional "hot pipe" – in his kitchen. Froggy Bottom Guitars was born.
As we now celebrate 47 years of Froggy Bottom Guitars, Michael and his partners have built something on the order of 5,000 different guitars, each crafted for a specific client or player. Froggy Bottom Guitars' talented team of craftsmen now includes Andy Mueller, Eric Goodenough, Larry Sweeney of Squeakswe Finishes, and Chris Bavaria of Bavaria Finishing. Led by Michael, Froggy Bottom Guitars custom builds instruments one at a time in their central Vermont workshop for amateur and professional musicians and a few authorized dealers.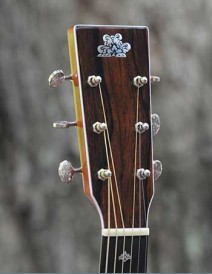 Our instrument making is unique in many ways. Every element of our building methodology is designed to allow us maximum flexibility to vary each and every component of each instrument. In functional terms, this allows us to respond fully to to the needs of our players. There is nothing generic; no stock answers. This approach limits the number of guitars we can produce, but the results are worth it. Guitars are tools for personal artistic expression, and because people and players vary widely, their instruments should vary widely, as well. Disinterested in generic instruments, we take to heart the opportunity to build YOUR guitar – the instrument of your hopes and dreams.
At Froggy Bottom, it is our mission and our privilege to translate musicians' understandings of what they need and desire in an instrument into the very physical world of wood and strings.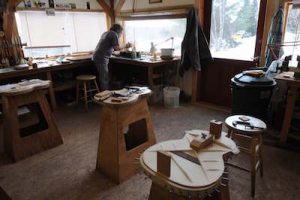 In order to design and build an instrument that meets and exceeds a player's hopes and expectations, we ask lots of questions. And we listen very carefully. Working directly with a player, we build a guitar that individual may have been envisioning and refining for years and only imagined. Guitars don't lie. When all is said and done, our guitars – and their owners – speak for themselves. Ask the person who has worked with us to build their guitar. We do not advertise the names of our clients, either world-famous or unknown. Your guitar is about your needs and no one else's.
Froggy Bottom Guitars are built to order for individual players, OR sold through a very small selection of the world's finest guitar shops. We are grateful for their work, trust, and support.
Visit us at FroggyBottomGuitars.com.
Froggy Bottom Guitars's Blog
Guitarist Lance Allen demonstrates an all-mahogany 12-fret.

Read More
Bill Cooley plays "While My Guitar Gently Weeps" on a 2018 Froggy Bottom at Carter Guitars.

Read More
Eric Wiggs flatpicks on a Froggy Bottom dreadnought at Wildwood Guitars.

Read More
A new variation of Froggy Bottom's 0000-size guitar specifically designed for low tunings.

Read More
Guitarist Carl Miner demonstrates one of Froggy Bottom's special 50th anniversary models at The North American Guitar.

Read More
Matt Chulka of Eddie's Guitars demonstrates a Froggy Bottom built with Indian rosewood and German spruce.

Read More
Fingerstyle guitarist Scott Ainslie presents an introduction to Open D tuning.

Read More
A 12-fret 00 with a contemporary feel.

Read More
A 12-fret 000 built with figured koa back and sides.

Read More
Froggy Bottom luthier and Muleskinner Instruments founder Andy Mueller plays a Muleskinner octave mandolin with his trio.

Read More
Scott Ainslie plays "Coleman's March" in Open C tuning on a beautiful Froggy Bottom.

Read More
A versatile small jumbo built with Adirondack spruce and figured mahogany.

Read More
Songwriter Benjamin Scheuer plays an original song from his award-winning one-man, six-guitar show, THE LION.

Read More
The mandolinist from the band Corner House plays a beautiful Muleskinner Instruments A-style mandolin, which you can win in a raffle for the Chandler Center for the Arts.

Read More
A 12-fret dreadnought built with stunning koa.

Read More
Scott Ainslie plays a Lonnie Johnson tune on a beautiful maple jumbo guitar from Froggy Bottom.

Read More
Scott Ainslie plays a beautiful Froggy Bottom Model K built with Brazilian rosewood and Adirondack spruce.

Read More
Scott Ainslie demonstrates his Brazilian rosewood small jumbo.

Read More
Scott Ainslie plays a Mississippi John Hurt classic on a beautiful 12-fret built with Koa back and sides and a Sitka spruce top.

Read More
Will Ackerman plays "The Impending Death of the Virgin Spirit" on his signature model guitar built by his friend, luthier Michael Millard.

Read More
A custom slope-shoulder dreadnought built with premium koa and Adirondack spruce.

Read More
Scott Ainslie plays a beautiful version of "You Don't Know What Love Is" on a custom parlor guitar from Froggy Bottom Guitars.

Read More
Scott Ainslie plays "Midnight on the Water" on a beautiful Froggy Bottom DeLuxe Grade D14 dreadnought with East Indian rosewood and Adirondack spruce.

Read More
Scott Ainslie plays "The One Dime Blues" on a stunning Froggy Bottom Model M with 1920s Brazilian rosewood and Greman spruce harvested in 1876.

Read More
The custom Froggy Bottom Model K acoustic guitar is a beautiful cutaway small-jumbo built with Indian rosewood and Adirondack spruce.

Read More
Songwriter Benjamin Scheuer plays the latest single from his album "Songs From The LION" on his Froggy Bottom H12.

Read More
An overview of Froggy Bottom Guitars' Limited series from North American Guitars' Michael Watts.

Read More
Songwriter Benjamin Scheuer shows the Froggy Bottom K14 he plays in his hit one-man show, THE LION, and on the album "Songs From THE LION"

Read More
Songwriter Benjamin Scheuer shows the Froggy Bottom H12 he plays in his hit one-man show, THE LION.

Read More
The guitarist Scott Ainslie plays his arrangement of the popular 1930's song on a Froggy Bottom 12-fret F model guitar.

Read More
Songwriter Benjamin Scheuer plays an original song from his award winning one-man, six-guitar show, THE LION.

Read More
The guitarist and songwriter Scott Ainslie plays his arrangement of the Stephen Foster hit on a special Froggy Bottom H-12 guitar.

Read More
Songwriter Benjamin Scheuer plays an original song from his award winning one-man, six-guitar show, THE LION, during a visit with Charlie Rose.

Read More
Four tunes from David Surette's set during a concert celebrating the artistry of Froggy Bottom Guitars.

Read More
Guitarist Will Ackerman sees and plays his Froggy Bottom Signature Model for the first time.

Read More