The 10,000th Bourgeois | Bourgeois Guitars
The custom flattop specialists unveil a commemorative OM-45 style guitar.
April 13, 2023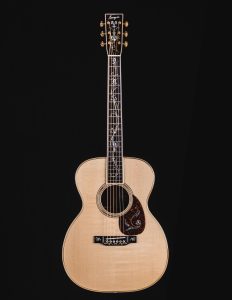 Having spent nearly half of a century honing his craft, world-renowned luthier Dana Bourgeois has put the finishing touches on his 10,000th guitar. Dana has designed each element of this OM-45 Style Custom to create a visually and acoustically stunning work worthy of its singular place in his legacy.
"For our 10,000th guitar, we challenged ourselves to create something really special," Dana says. "It had to be over-the-top fancy, but not gaudy in any way. I couldn't be more pleased with the result."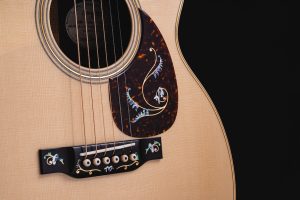 Accordingly, for this build, the traditional abalone shell used for 45-style purfling has been replaced by ribbons of solid 18k gold, inlaid along every edge of the body. On the fingerboard, headstock, pickguard, bridge, and heel cap, layers of abalone, pearl, and 18k gold are woven together in a stunning, yet understated take on Bourgeois' signature Ghost Flower inlay.
Over the last five decades, Bourgeois has championed countless innovations within the vintage cannon. Boasting a beautifully figured mahogany neck, clear black ebony fingerboard and bridge, and elegantly dressed from head to toe in English holly binding, Dana has once again created a bold, forward-looking piece with an obvious and deep reverence for tradition.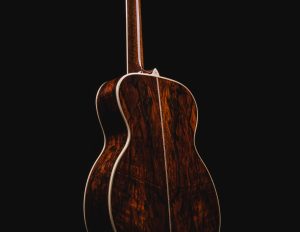 The perfectly quartered, master-grade Adirondack spruce top shows a telltale waterfall of medullary rays, and pairs perfectly with the master-grade Brazilian rosewood back, sides, and headplate, all selected from Dana's personal reserve. This particularly rare example of the species was chosen for its subtle curl and black cake lines radiating out over the rich fields of reds and browns found only in the finest old-growth Brazilian.
After its unveiling at the 2023 NAMM show this week, this landmark instrument will be delivered to Down Home Guitars in Frankfort, Illinois.
Visit Bourgeois Guitars!
Related Inside Look Posts
Bourgeois introduces an A-Style mandolin.

Read More
13 custom guitars made especially for display at the NAMM show in California.

Read More
A look inside the Bourgeois Guitars shop in Lewiston, Maine.

Read More
Dana Bourgeois discusses his approach to the iconic OM-45 design

Read More
Dana Bourgeois discusses two of his most contemporary designs.

Read More
Dana Bourgeois discusses three recent guitars built for the Winter NAMM 2021 collection.

Read More
Dana Bourgoeis discusses his OM Large Soundhole and Grand Auditorium models.

Read More
A glimpse into the Bourgeois workshop.

Read More
A new look and more content for Bourgeois Guitar's online home.

Read More
Bourgeois Guitar's James Cook discusses the company's OM Large Soundhole.

Read More