John Jorgenson Endorses X4 Combo | Phil Jones
Grammy award-winning multi-instrumentalist is added to the amp maker's artist roster.
September 21, 2022
Phil Jones Bass is excited to announce the addition of Grammy award winning guitarist/multi-instrumentalist John Jorgenson to its artist roster. John has chosen the X4 for its high fidelity, tone and versatility for guitar and stringed instruments. About the X4 John says,"It is a great amp, with Hi-Fi tone in such a small package!"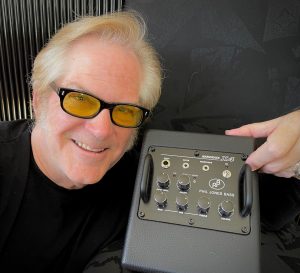 John's esteemed guitar work and musicianship has been an integral part of bands such as the Desert Rose Band, The Hellecasters, and as Elton John's guitarist for ten years as well as 100's of other studio and live credits. Jorgenson won the Academy of Country Music's "Guitarist of the Year" award two consecutive years while with the Desert Rose Band and has an admired and extended list of live and studio credits with numerous legendary artists. John has also become recognized as "The US Ambassador of Gypsy Jazz" while continuing to honor the legacy of Django Reinhardt, by bringing his unique brand of Gypsy Jazz to the masses with his John Jorgenson Quintet. Jorgenson continues to expand his dynamic range of musical offerings, exploring new elements of world music, bluegrass, rock and classical as he captivates and enlightens fellow musicians and listeners along the way.
The 4 Nanobass is PJB's highly efficient multi-instrumental mini marvel that redefines transportability and "Tone To Go". It is a 35 Watt amplifier with a 4" speaker and 3 Band EQ that will fit into a backpack.
Check out Peghead Nation's demo of the X4 Nanobass!
Visit Phil Jones Bass!
Related Inside Look Posts