Derk's Discoveries: UK Primitive
Welsh-born Gwenifer Raymond: a new force in fingerstyle guitar
By: Derk Richardson
November 12, 2018
American Primitive guitar—that genre pioneered in the late 1950s and '60s by John Fahey, Leo Kottke, Peter Lang, Robbie Basho, and others, and based on country blues—is a global phenomenon, a fact underscored by the dazzling Tompkins Square Records debut of Gwenifer Raymond, the Welsh multi-Pegheader who also adds another distaff presence in what has long been a boys' club of fingerpickers. Currently a resident of Brighton, England, Raymond pulls out all the stops, and most of her instruments, on the 13 original compositions on You Never Were Much of a Dancer. Her fingerstyle acoustic guitar playing is her primary modus operandi here, but she opens the album with moaning fiddle on "Off to See the Hangman, Part 1," throws down some fierce clawhammer banjo riffing on "Oh, Command Me Lord!" and "Bleeding Finger Blues," and puts the slide to resonator guitar with equal parts ease and steely conviction on "Sweep It Up."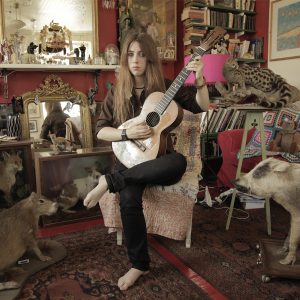 Raymond's check-out-my-many-talents approach comes across less as a smorgasbord of discrete samples than a multifaceted reflection of a singular vision, a vision that she forged some years after picking up the guitar at age 8, initially inspired by repeat headphone listening to Nirvana's Nevermind. Raymond did play in grunge-inspired punk bands, but the musical curiosity that led her to cull through her parents record collection (Dylan, the Velvet Underground) also put her on the trail back to prewar blues and to a subsequent fascination with Mississippi John Hurt, Skip James, Roscoe Holcomb, and John Fahey.
In April 2018, Raymond made her debut U.S. performance at Thousand Incarnations of the Rose: A Festival of American Primitive Guitar, in Takoma Park, Maryland. Curated by Fahey acolyte Glenn Jones, the festival put Raymond in close proximity to fingerstsyle royalty, including Jones, Lang, Harry Taussig, Max Ochs, Rich Osborn, Chuck Johnson, Peter Walker, and (the rare female) Marissa Anderson.
Raymond also came away with a "new" guitar—a Joseph Bohmann model from the 1890s, given to her by Henry Kaiser. "It was the most ludicrously generous act, and I am firmly convinced that this guitar is possessed by some fingerpicking demon or spirit, because when I pick it up, I play hard and it sounds real good," Raymond told Uncut's Jon Dale. "I hope to do it justice by the mighty HK."
On You Never Were Much of a Dancer, Raymond certainly does justice to the legacy she has embraced and the community, at once cultish and internationalist, which has adopted her. And she does it in the way that Fahey did, by taking a music as rooted in time as were its originators (Holcomb, Hurt, James, Blind Willie Johnson, Charlie Patton) and making it timeless. And she does that not just with virtuosity but also with personality, and with American Primitive's essential, individuated sense of brooding experimentation and mystery.
Related Recordings Posts
The Israeli singer-songwriter makes a powerful statement--without words.

Read More
Guitarists Jim McAuley and Scot Ray inhabit a Second Earth. You should too.

Read More