Derk's Discoveries: Oud Do You Love
Anouar Brahem, the Tunisian master, crafts a cross-cultural jazz masterpiece.
By: Derk Richardson
October 12, 2017
Try as I might, I can't find any oud lessons here on Peghead Nation. I did find a video of Teja Gerken and Mark Goldenberg demonstrating Godin's Inuk Encore Steel SG, a hybrid instrument that incorporates elements of the historic Arabic lute. But while there may be little pressing demand for instruction in how to play the culturally pivotal and magnificent-sounding 11- or 13-stringed instrument (made world famous by Hamza el Din), the music of Tunisian oud master Anouar Brahem might trigger a groundswell of interest. His new album, Blue Maqams, released October 13 on CD, vinyl double LP, and digital download, sets the 59-year-old virtuoso's melancholic melodies and the unique timbres of the oud in the resplendent company of an acoustic jazz trio—British pianist Django Bates, English ex-pat bassist Dave Holland, and American drummer Jack DeJohnette. It's one of the most enthralling releases of 2017, oud or otherwise.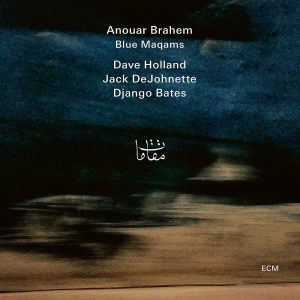 The 11th album under Brahem's own name for the ECM label (he has also appeared on ECM albums with saxophonist Jan Garbarek and the Paolo Damiani–directed French Orchestre de Jazz), Blue Maqams takes its title from the Arabic modal system (maqam) upon which the music is based. And the mood is definitely blue, in many subtle shades.
Although Holland and DeJohnette, both veterans of Miles Davis's transitional Bitches Brew–era bands, are free improvisers nonpareil, and Bates has proven he can play in just about any idiom on multiple instruments, the music here is defined by what Brahem calls "the true universe of each piece." That means "the right balance between composed and improvised music," with the intention that the music should "sound as though it surges forth in an inspired, improvised flow."
In most genres, the music directs the listener's attention: It makes you focus on a lyric, a pop hook, an inexorable dance beat, an instrumental solo, a commanding crescendo. On Blue Maqams there are no doubt times when your ears can't help but follow Holland's bass lines, Bates's crystalline piano melodies and harmonies, DeJohnette's breathtakingly sensitive percussion accents, and especially Brahem's serpentine and spaciously showcased plucking. But the overall effect of the music is to expand your field of awareness, seduce you into surrendering to the flow, and allow you to abandon your sense of a separate self, just as the players do.
The "exotic" (for want of a better descriptor) sound of the oud and the maqam-derived melodies sustain a certain tension in what is otherwise a familiar, beautiful, and emotionally muted "ECM sound." I may never know how to play the oud, but it's unlikely I'll ever tire of the raptures it delivers in Brahem's hands on Blue Maqams.
Related Recordings Posts
On his new album, Flown South, the Peghead Nation co-founder and instructor exposes his jazz side

Read More
Walter Strauss explores the melodies of iconic singer-songwriters.

Read More