Derk's Discoveries: Lighting up the Strings for Christmas
Holiday guitar instrumentals for stringing your lights and trimming your tree.
By: Derk Richardson
December 20, 2017
As an antidote to the cliché holiday music that streams nonstop in supermarkets and department stores from before Thanksgiving through Christmas, I sometimes turn to the quirkiest blues, jazz, R&B, and folk versions to get me through the season (James Brown, Dan Hicks, John Prine, Pink Martini, Dr. Demento collections . . .).
But the most truly enjoyable standbys in my admittedly oversize collection are by guitarists.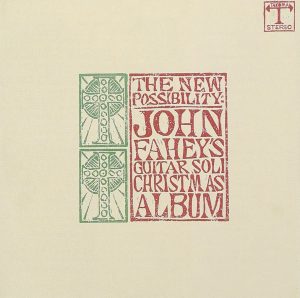 To my way of thinking, John Fahey and the Ventures, in the 1960s, set the standards for, respectively, acoustic and electric guitar renditions of classic Christmas tunes—Fahey by applying his unique and still influential "American Primitive" fingerpicking style to mostly traditional Christian carols; the Ventures by pipelining their surf guitar twang into more secular pop ditties, equally timeless but rather less reverent.
A few other holiday guitar albums have insinuated their way onto my annual must-play list, but there's been nothing new until last week, when a friend sent me a link to Hi-Fi Christmas Guitar by the Chicago-based guitarist Joel Paterson.
Clearly influenced by Chet Atkins, Les Paul, and Don Rich (Buck Owens's lead guitarist), Paterson is definitely in the popular tune camp, swinging through 14 familiar ditties such as "I Saw Mommy Kissing Santa Claus," "Silver Bells," "Pretty Paper," "Rockin' Around the Christmas Tree," "Jingle Bell Rock," and "Blue Christmas." His technical prowess and command of time and tone vault the album into my seasonal pantheon. (If you're on Facebook, check out his regularly uploaded videos.)
To put it all in context, here are my six favorite holiday guitar instrumental albums.
John Fahey: The New Possibility: John Fahey's Guitar Soli Christmas Album. It's packaged on CD with Christmas with John Fahey Volume II (Takoma).
The Ventures Christmas Album (EMI). This is the classic 1965 lineup of the Rock & Roll Hall of Fame group, with Nokie Edwards and Don Wilson on guitars.
Tuck Andress: Hymns, Carols and Songs About Snow (Windham Hill Jazz). The orchestral solo virtuoso (without his vocalist partner, Patti Cathcart) reinvents classics from the sacred and the celebratory repertoires.
Mike Marshall: Midnight Clear: Solo Acoustic Guitar for the Holidays (Acorn Music). Best known for his mandolin wizardry, Marshall adds "Arabian Dance," from The Nutcracker, to a familiar but dazzlingly different-sounding program.
Sean Smith: Christmas (Tompkins Square). Before venturing into heavy electric rock, Smith personalized the American Primitive approach and updated the Fahey legacy with his own guitar voice.
Joel Paterson: Hi-Fi Christmas Guitar (Ventrella Records).
Related Recordings Posts