Derk's Discoveries: Brothers from Another Planet
Guitarists Jim McAuley and Scot Ray inhabit a Second Earth. You should too.
By: Derk Richardson
March 14, 2020
"The world needs weird," says the mother in the animated film Spies in Disguise. That's long been my position when it comes to music, ever since I first listened to John Fahey's The Transfiguration of Blind Joe Death, Jefferson Airplane's After Bathing at Baxter's, and The Soft Machine during my first year in college. And as an amateur guitarist, who started out with tiny hands on ukulele, I've always appreciated the instrument's generous willingness to generate bent sounds, which explains my affinity for the likes of Nels Cline, Fred Frith, Keith Rowe, Henry Kaiser, and Janet Feder, even while I adore Django Reinhardt, Charlie Christian, Joe Pass, Doc Watson, and Clarence White.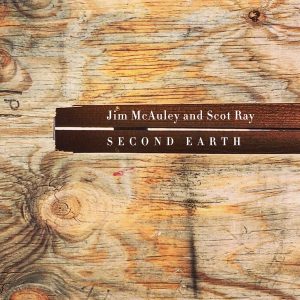 Second Earth, a recent release on Long Song Records by Jim McAuley and Scot Ray, satisfies my cravings for the peculiar and strange. Since its release in mid-September 2019, I've continually returned to its 11 completely improvised tracks, finding something new to discover upon every listen. On the afternoon of February 28, 2019, McAuley and Ray, having never before played together, sat down at the suggestion of Los Angeles KXLU radio programmer Kid Methuselah (Michael Davis) and felt their way into a realm where they found a bizarro common ground or, rather, a common ether where their individual distortions melded into something akin to what Terry Riley long ago titled "a rainbow in curved air." Imagine a mash-up of Joe Pass and Herb Ellis, John Fahey and Glenn Jones, and Jimmy Bryant and Speedy West.
McAuley—who briefly did L.A. session work (for Frank Sinatra, among others) before falling in with such SoCal improvisers as saxophonist John Carter, pianist Horace Tapscott, violinist Jeff Gauthier, drummer Alex Cline and his twin brother Nels—brought a classical six-string, a 12-string, a high-strung Dobro, and a prepared parlor guitar to the extemporaneous session. Ray, whose parallel credits include recordings with Gauthier, both Clines, and bassist Steuart Liebig, played his lap steel guitar with added effects. Together they got into a zone, a "twilight zone" as it were, and tested the "outer limits" of their instruments' sonic capacities. But neither is a particular noisy player, and there is a sweetness and gentleness to their delirious explorations. Their collaborative curiosity is contagious. As a listener, you are—or at least I am—drawn into their dryly psychedelic, labyrinthine twists and turns, and each trip through the maze unravels new musical mysteries.
One presumes the "tune" titles were appended after the fact. Some remain cutely cryptic: "Household Deer," "Here's Looking at Euclid." Others are aptly evocative: "Outer Banks," "Time's Arrow," "Future Memories," "Intermodal." If you find them as absorbing as I do, you'll want to plunge down the individual McAuley and Ray rabbit holes. There you will encounter such mindbenders as McAuley's records under his Gongfarmer moniker, Vignes by the Acoustic Guitar Trio (with McAuley, Nels Cline, and the late Rod Poole), Ray's Active Vapor Recovery (a quintet with Nels Cline, Steuart Liebig, Jeff Gauthier, and Alex Cline), and the brand-new Scot Ray Quartet (with Liebig, Alex Cline, and chromatic harmonica wizard Bill Barrett.) It's a weird and wonderful world down there, courtesy of the way these players integrate their technical virtuosity and screwy imaginations.
Related Recordings Posts
On his new album, Flown South, the Peghead Nation co-founder and instructor exposes his jazz side

Read More
Walter Strauss explores the melodies of iconic singer-songwriters.

Read More