Watch the 25th Anniversary Celebration of Scott Nygaard's "Dreamer's Waltz"
Video Available | Peghead Nation instructor Flynn Cohen interviews our co-founder about his influential second solo album on the 25th Anniversary of its release.
By: Dan Gabel
June 4, 2022
Peghead Nation co-founder Scott Nygaard's beautiful second solo album, Dreamer's Waltz, was released 25 years ago, and it is an important and influential document of Scott's inventive compositions and his interpretations of traditional tunes. In addition to Scott's progressive guitar playing, the album also features playing from many of the folks that Scott has collaborated with over the years, leaders in the bluegrass and roots music community. These include Darol Anger on fiddle, Jerry Douglas on dobro, Tim O'Brien on fiddle and vocals, John Reischman on mandolin, Mark Schatz on bass, Dirk Powell, and many others.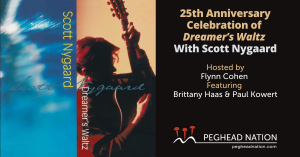 To celebrate the 25th Anniversary of Dreamer's Waltz, Peghead Nation guitar instructor Flynn Cohen interviewed Scott about the project, diving deep into Scott's recollections of the creation of one of contemporary bluegrass guitar's seminal works, as well as Scott's musical history, guitar technique, and much more. Also joining Flynn and Scott were Brittany Haas and Paul Kowert, who played a couple of tunes from the album. You can watch the entire interview and event in the video on this page!
You can also see Scott play "Where To Now?" from Dreamer's Waltz with Tristan Clarridge (cello), Simon Chrisman (hammered dulcimer), and Tashina Clarridge (fiddle) live at The Back Room in Berkeley a few years ago by clicking here.
Learn guitar with Scott in any of his five courses: Roots and Bluegrass Rhythm Guitar, Intermediate Flatpicking Guitar, Flatpicking Guitar, Weekly Guitar Workout,  and Creating Bluegrass and Roots Music Solos.
Related Events Posts
Peghead Nation instructor Flynn Cohen interviews our co-founder Scott Nygaard about his influential second solo release on the 25th Anniversary of its release.

Read More
Learn hot jazz, Western swing, and more with our jazz guitar and mandolin instructors in this wide-ranging workshop.

Read More