Your Free Lessons for Mandolin Camp Prep
Due to popular demand, we've released another five seats for a weekend of mandolin instruction with John Reischman, Sharon Gilchrist, and Joe K. Walsh, October 19–22, 2017.
By: Dan Gabel
September 21, 2017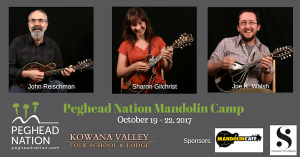 We can't wait for our Mandolin Camp weekend, coming right up October 19 – 22, and we're happy you can join us at the Kowana Valley Folk School near Yosemite, California,
Here's a little something to help you get inspired for Camp. As part of the weekend, John, Sharon, and Joe would like to have an ensemble session in which you and your fellow students play "Lonesome Moonlight Waltz" in three-part harmony. And you'll also have the chance to learn John's favorite contemporary old-time tune, "The Road to Malvern."
To get you started, we're giving you free access to video lessons for these tunes on PegheadNation.com. If you're already a member of Sharon Gilchrist's Intermediate Bluegrass Mandolin course or John Reischman's Melodic Mandolin Tunes course, you have access to these lessons. But if you're not, you're getting a free sneak peak at their great online courses.
Here's how to access your free Camp lessons:
Log into Peghead Nation by clicking on the red "Sign In" button in the upper right of any page on the site, or by clicking here.
If you are already have active subscriptions on the site, use your regular log in and password.
If you do not have active subscriptions at the moment, enter your email address and the password "mandocamp" when prompted at the Sign In page.
You can then follow these links to get to the pertinent lessons:
Sharon's Intermediate Bluegrass Mandolin Lessons for "Lonesome Moonlight Waltz"
John's Melodic Mandolin Tunes Lessons for "The Road to Malvern"
So please get in there and give these lessons a try. And of course, there will be plenty of time to work on these tunes and much more during our weekend near Yosemite, so don't worry too much if you don't perfect all of this before Camp!

We all look forward to immersing ourselves in mandolin and music with you in a few weeks! See you soon and thanks for joining us!
Sponsored by:
Related Events Posts
Learn hot jazz, Western swing, and more with our jazz guitar and mandolin instructors in this wide-ranging workshop.

Read More
Peghead Nation is sponsoring Porch Pride 2021 and a special all-levels virtual jam.

Read More