Join Taylor Guitars' Andy Powers | Facebook Live, Friday, March 12, 2 PM Pacific
Tune into Peghead Nation's Facebook page to hear Taylor Guitars' master luthier talk (and play) new Taylor models.
By: Dan Gabel
February 9, 2021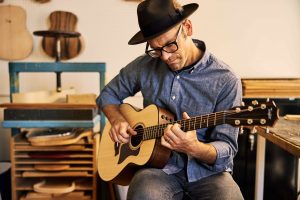 Taylor Guitars master luthier Andy Powers is joining Peghead Nation co-founder Teja Gerken for a wide-ranging Facebook Live discussion on Friday, March 12 at 2 PM Pacific Time. In addition to being an innovative guitar builder, Andy is also a talented player, So we hope to hear him play some of the new Taylor models for 2021, and hear how one of the most innovative guitar companies of the past 40 years has handled the challenges of the past twelve months, and what new projects are in the near future.
Please join us on the Peghead Nation Facebook feed, Friday, March 12 for a fun hour, and be sure to follow Peghead Nation on Facebook for event updates.
Related Events Posts