REVIEW: Chris Thile and Edgar Meyer in Concert
By: Dan Gabel
September 23, 2014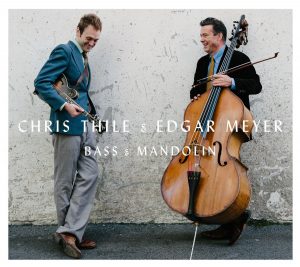 Chris Thile and Edgar Meyer have just released their second duo album, called Bass and Mandolin (Nonesuch Records), and the third stop on their month-long tour brought the two MacArthur Fellows (Meyer in 2002, Thile in 2012) and Grammy winners to the beautiful Weill Hall on the campus of Sonoma State University (Rohnert Park, CA) on September 19. The room is an entity all its own, created to suit classical performances and, as it turns out, perfect for Thile and Meyer's intricate compositions and playful improvisations.
The two have collaborated often in the past several years—on their first duo album, Edgar Meyer and Chris Thile, in 2008; on the Goat Rodeo Sessions in 2011; and on Thile's album from last year, Bach: Sonatas and Partitas, Vol. 1, which Meyer produced. They are clearly comfortable with each other musically and personally and it shows in the ease of their performance and interaction, even while playing incredibly challenging music.
The duo played six of the ten tracks from Bass and Mandolin, which was recorded just down the road from Weill Hall at Skywalker Studios in San Rafael, California, last January and February. The rest of the tunes were from their first album, with a selection from Thile's Bach album as well.
I have seen Thile perform with Nickel Creek and Punch Brothers, and while I went in expecting the speed, tone, and flowing improvised lines that are his trademarks, hearing him live with Meyer was a new, exciting experience. It didn't hurt that his 1924 Gibson Lloyd Loar F5 completely filled this room with just the lightest touch (and, OK, a little bit of help from a single condenser microphone). It was a perfect way to witness his ground-breaking talent, and see how acutely tuned-in he was to another equally sensitive musician. Thile is more sedate in this live setting than in Nickel Creek performances, which is appropriate given the material, which owes more to jazz and classical influences than Nickel Creek and Punch Brothers' new acoustic and rock-music touches.
Edgar Meyer's bass playing is a joy to behold. Far from simply holding down the beat and the bottom end, he often played flowing, cello- or violin-like countermelodies and harmonic lines ("Friday"), or stated the main theme or melody of a piece while Thile provided a rhythmic foundation with syncopated chops ("Monkey Actually"). When Meyer burst forth with flourishes of lightning-fast bowed runs, matching Thile note-for-note in tunes like "FRB," "Fence Post in the Front Yard," and "Tarnation," he left many in the audience gasping in appreciation.
Thile introduced the new album as being appropriately called Bass and Mandolin, and he and Meyer promptly put down their instruments so that Thile could pick up a guitar while Meyer strolled to the Steinway grand piano to play the quiet "I'll Remember for You" from the new album, with Thile's sparse fingerpicking laying a foundation for Meyer's jazz-like playing. They both returned to these instruments in the second set.
A particular highlight of the evening came with the performance that they have been calling "Improv." A completely improvised piece, it moved between rhythms and melodic ideas fluidly and on the barest of signals from either Meyer or Thile. It truly seemed like a conversation between the only two humans who could actually speak their musical language, and they had a ball with it. After they played "Improv," they explained that  they've been asking the audience in each town to suggest another name for what just happened. In Sonoma, there were many serious and not-so-serious attempts, but Meyer and Thile agreed that the winner had to be "A Night Wasted," yelled out by a gentleman who one can only guess was joking (or referencing alcohol/substance intake). Otherwise, it was a completely inappropriate characterization of the tune and the entire evening, but the performers were thrilled with the suggestion, an endearing reaction from two masters who are clearly serious about their craft.
I walked away feeling like I had witnessed the best in the world doing what they do at the peak of their powers. Get the album, and go see Edgar Meyer and Chris Thile if you get the chance. In the meantime, check out the video of "Big Top" from Bass and Mandolin below.
Related Events Posts
Learn hot jazz, Western swing, and more with our jazz guitar and mandolin instructors in this wide-ranging workshop.

Read More
Peghead Nation is sponsoring Porch Pride 2021 and a special all-levels virtual jam.

Read More