Remembering John Renbourn: 1944–2015
March 29, 2015
"Would you like me to step out for a while, so you can have some privacy?" Those were the words of a visibly concerned John Renbourn, who I was about to open for at Berkeley, California's Freight & Salvage Coffeehouse in 1998. I was trying to play it cool, but truth be told, sharing a dressing room with my single greatest guitar hero and borrowing his audience for 20 minutes made me so nervous I couldn't be sure my fingers would work.
The term "legend" is often used without considering the weight it should carry. But when John passed away at the age of 70 on March 26, there was no doubt that the guitar world had lost one of its most iconic, influential, and, yes, legendary players.
Born in London, England in 1944, Renbourn came to the guitar during the skiffle craze of the 1950s. While attending London's Kingston College of Art in the early 1960s, he began hanging out with a group of students—including Eric Clapton and members of the Yardbirds—who wielded guitars rather than paint brushes, but while some of his contemporaries would electrify the blues, Renbourn became interested in fusing blues influences with folk, classical, and jazz styles.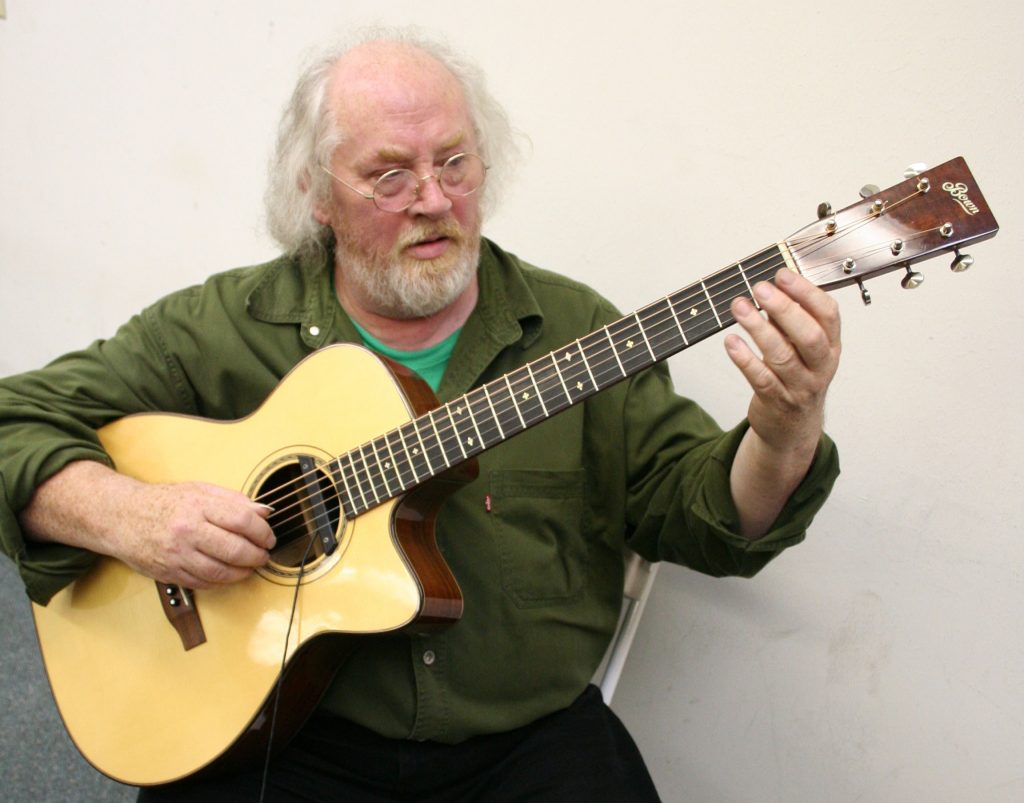 Renbourn made his recording debut in 1965 with There You Go!, a duo album with singer Dorris Henderson consisting mostly of American traditionals. The same year, he released a self-titled solo album that included solo instrumental pieces in addition to blues songs. Featured on a few of the album's tunes was another young guitarist, Bert Jansch, and over the course of the next several years, Bert and John would redefine what two steel-string guitars could do together. Working at a time when young audiences were already getting hip to players such as Martin Carthy, Davey Graham, and Wizz Jones, Bert and John became rising stars in London's music scene, leading to an extended residency at Soho's revered club Les Cousins. Bert and John eventually recorded their seminal duo album, Bert and John, in 1966, a year before forming the groundbreaking folk-jazz ensemble Pentangle, along with vocalist Jacqui McShee, bassist Danny Thompson, and drummer Terry Cox.
After touring heavily and releasing six albums, Pentangle dissolved in 1973, leaving John to focus on a solo career. While his earliest solo efforts were heavily blues based, John had already broadened his scope with the release of Sir John Alot in 1968, coining the term "folk baroque" to describe his style. A collection of tunes that included Renaissance-era composer William Byrd's "The Earle of Salisbury," Booker T Jones's "Sweet Potato," as well as folk tunes such as "The Trees They Do Grow High" and a handful of originals, the album defined the direction of John's eclectic guitar playing for the remainder of his career. Not only did John's refusal to dedicate himself to one musical style or era result in highly engaging albums, it also encouraged countless other guitarists to explore music outside their comfort zones. As with most true artists, the amalgam of John's interests resulted in a highly individual style that could be heard on everything he played, whether it was music by Bach, Mingus, or O'Carolan.
John's solo playing was brilliant, and he also loved to collaborate. His post-Pentangle John Renbourn Group (a band with a variety of lineups) recorded several albums and performed throughout the late '70s and early '80s, typically playing a fusion of folk traditionals and early classical music. One of John's longest collaborations was a duet with guitarist Stefan Grossman, a project that resulted in numerous albums and tours around the globe. During the last decade of his life, John often toured with harpist Robin Williamson.
I don't remember the first time I heard John's music, but Pentangle was part of my family's soundtrack as I grew up. However, I remember exactly when I first saw John play live; an event that, as a whole, would twist its way into much of what I've been doing in the 27 years since. In the fall of 1988, I was an 18-year old freshman in college, where I had befriended Matt Greenhill, whose father, Mitch Greenhill was John's North American booking agent. Working part-time for his dad's Folklore Productions, Matt had booked several of John's California dates, and he invited me to come see him in a double-bill with Grossman at the Freight & Salvage—the same club where, a decade later, I'd be John's opening act.
In a rookie move, Matt had neglected to tell the venue that we were planning on seeing the show he'd booked, which turned out to be sold out, with people being turned away. Matt got us in anyway, but as there were no seats left, we sat on the floor, directly in front of the stage. Not only was I entranced for the duration of the show, which was the first time I'd seen anyone play high-level fingerstyle guitar, it was also the first time I had met a genuine musical hero of mine. Up to that point I had only been to a few big rock shows, and the easy-going and approachable nature of an acoustic folk show had immediate appeal.  Over the next 20 years, the Freight & Salvage became my second home, and I saw more live music—including most of my guitar heroes— there than at any other venue. Furthermore, Duck Baker sat in as a special guest that night. I didn't know who he was at the time, but years later he would become a friend and mentor of mine. I'd heard John almost every time he came to town, including a memorable duet show with Jacqui McShee, which was as close to hearing Pentangle as I'd come (I would have loved to jet over to England for the band's reunion tour in 2008).
I last saw John in the fall of 2006, which turned out to his final visit to the San Francisco Bay Area. I went to both his local shows (at the Freight & Salvage and the Little Fox in Redwood City), but the best part was spending a long afternoon and evening with him, recording an interview for Acoustic Guitar magazine. In hindsight, that day brought me full circle, as John was staying at Matt Greenhill's rural home near Occidental, California. Matt suggested we make a day of it, so after spending several hours talking about the span of John's career as well as his guitar technique, we had a lovely outdoor dinner (consisting of salmon and the abalone Matt had caught himself the previous day!). Even though John was tired—the airlines had lost his luggage and guitar, which he'd just gotten back, after more than a week of gigging with borrowed instruments and basically wearing the same clothes—he was his jovial self, never missing an opportunity for a joke or an anecdotal story. It was amazing to have John walk me through his arrangements of "Goodbye, Porkpie Hat," "Plains of Waterloo," "The South Wind," "Watch the Stars," and others, and to hear him talk about the early days of British fingerpicking, touring with Pentangle, and his ever-present regard for Big Bill Broonzy, Davey Graham, Merle Travis, and Dollar Brand.
John's final album release would be 2010's Palermo Snow, a wonderful recording that continued his life-long habit of assembling music he liked, regardless of its origin. Besides a half-dozen originals, the album included arrangements of Erik Satie's "Sarabande," J.S. Bach's "Cello Prelude in G," and Randy Weston's "Little Niles" ( a tune John recorded several times). As was evident in the shows he played over the last couple of decades, John wasn't out to reinvent himself, and he clearly enjoyed playing the tunes that had endeared him to fans around the world.
While the news of John's passing saddened me deeply, it's also evident that he lived his life to the fullest. He never stopped studying, playing, and teaching the music he loved; he was teaching workshops and playing gigs until just a couple of days prior to his unexpected death; most likely due to a heart attack.
I spent the last couple of days listening to John's albums, checking out YouTube clips, and brushing up on playing his tune "Judy," which I'd originally learned years ago. The deeper I dig, the more I realize how much of John's approach to the guitar had snuck into my own playing. It's been heartwarming to see what feels like the entire fingerstyle guitar community reflecting on John by way of Facebook, Twitter, and other media. John's music affected everybody who has played fingerstyle steel-string guitar in the last 50 years, but even more, his kindness, humor, and generosity touched so many of us. Thank you John, it's been an honor to know you, and your legacy will live on!
Related Breaking News Posts
Learn to play fingerstyle guitar in dropped D, DADGAD, open G, and other tunings. Sign up for email updates about the course launch.

Read More
Peghead Nation adds to its guitar instruction lineup with a course on playing Irish and Scottish music taught by Tony McManus.

Read More