5 Ways to Reinvigorate Your Guitar Playing
By: Jenny Reynolds
July 27, 2015
Creating a routine for practice time is a good way to get things done. But when a routine becomes a rut, we all need ways to rediscover the joys of playing music. Here are some ideas to get you started.
1. Play with Others
That local, independently owned music store where you bought your guitar knows people just like you. These stores are owned and run by people who love the music played on the instruments they sell. Often they have picking parties and jam sessions on weekends. These are opportunities to meet others and play together. You'll learn new songs, chord forms, and techniques, and new ways to become more involved in music.
2. Learn Songs Outside Your Usual Genre
The music industry tends to pigeonhole music into genres. But you can play anything you like. Good players will have a Beatles song and a few jazz standards in their repertoire. And you can play any song your way. In the process of learning songs you will be exposed to new chords and progressions, and you'll increase your knowledge of how chord progressions move.
3. Learn Other Forms of the Same Chords
If you're looking for a driving rhythm sound, the two-finger E7 with D on the open fourth string is your steady Eddie (Example 1). But using the E7 voicing with the D on the second string puts the D on a string you can easily bend (Example 2). Its higher frequency is also better suited to melodies and riffs used in fingerstyle blues.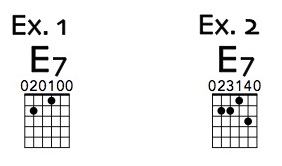 Here's another: Take an open C7 (Example 3) and slide it up two frets. Now you're playing a D7 (Example 4), but this D7, unlike the open form, has a root note on the fifth string; and the seventh is on the third string, giving you plenty of room to slide into it if you like. Slide this shape up two more frets and you have an E7 that John Fogerty surely likes (Example 5).

4. Try a Different Tuning and Key
Using a capo to change the key will often change the voicing of the chords you're playing. This can make picking sound different and new. For example, say you want to play "House of the Rising Sun" in A minor. You could put a capo at the fifth fret and use an Em shape as your first chord. This form of Am lets you use a six-string picking pattern, because the root (A) is on the lowest open string. Now, take the capo off and make your first chord an open Am. This arrangement will give you a nice bass run on the sixth string between the E7 and Am chords (Fig. 6). Because you're still in the same key, the vocal melody is the same, but the picking pattern sounds different.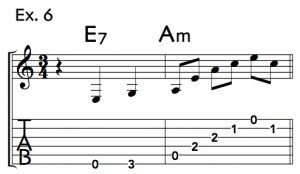 5. Record Yourself
You don't need a fancy, audiophile-worthy piece of art. You just need to know how you sound. Listening while you play isn't the same as devoting your whole brain to how you sound. When you really hear yourself you may at first be justifiably impressed with your skills. You will also hear some areas that are less satisfying, skills you might need to work on. Good. Knowing what you need to improve is the first step to becoming a better player.
Related Advice Posts
How to find your courses, lessons, My Account page, Play-Along Tracks, and more.

Read More
Practical tips on how to find the motivation to keep practicing when life, schedules, and distractions pull at you.

Read More