Taylor Special Edition 300 Series
Taylor Guitars introduces a limited run of mahogany-top models with shaded edgeburst finishes.
July 10, 2015
Taylor has introduced a special limited edition of several models in its 300 series. In addition to variations of standard grand concerts (322e-SEB), grand auditoriums (324e-SEB), and dreadnoughts (320e-SEB), the run includes a 12-string dreadnought (360e-SEB, pictured below) and a baritone that uses the company's grand symphony body (326e Baritone-SEB).
All the guitars have the 300 series' standard solid sapele back and sides, matched with a solid mahogany top. An edgeburst finish gives the guitars a distinctive appearance. All models include Taylor's ES-2 pickup system.
With prices around $2,378, this run is a great chance to own a limited-edition Taylor at an affordable price. taylorguitars.com.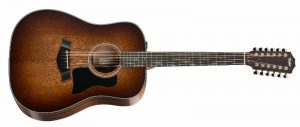 Related New Gear Posts
A great-looking variation of Taylor's most popular model.

Read More
A new slope-shoulder dreadnought Grand Pacific with urban ironbark back and sides.

Read More
The most advanced version of Taylor's popular grand auditorium has an Adirondack spruce top.

Read More
Taylor adds a new version of its slope-shoulder dreadnought Grand Pacific model to the 400 series.

Read More
Taylor updates its popular mid-level line with sunburst finishes and a completely new Grand Pacific version.

Read More
A trio of guitars in Grand Theater, Grand Concert, and Grand Pacific sizes.

Read More
New versions of Taylor's popular entry-level models feature walnut construction.

Read More
A completely revamped Taylor classic built with urban red ironbark wood.

Read More
A new take on a Taylor classic, using urban red ironbark wood.

Read More
A new all-koa grand auditorium that's part of the revamped 700 series.

Read More