Recording King Dirty 30's Harmonella
Recording King releases guitars inspired by classic blues flattops.
May 14, 2015
Recording King is introducing a pair of guitars inspired by the inexpensive department-store guitars that have been popular with blues players ever since the 1930s. Part of the company's Dirty 30's series, the Harmonella models are available in 0 and 000 sizes and feature floating bridges with the strings anchored in a tailpiece. The 0-size model (pictured below) is built with a 12-fret neck, while the 000 has a 14-fret neck.
The guitars are built with solid spruce tops, "white wood" back and sides, and rosewood fingerboards. Similar to the instruments they're styled after, the guitars feature minimal appointments and a sunburst finish. In a nod to more contemporary designs, the Harmonellas have X-braced tops and adjustable truss rods.
SPECS: 0/000 bodies. Solid spruce top. White wood back and sides. Rosewood fingerboard and bridge. X-bracing. Metal tailpiece. 25.5-inch scale. 1¹¹/₁₆-inch nut width. Vintage-style enclosed chrome tuning machines. $199 street. recordingking.com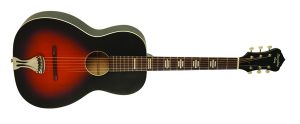 Related New Gear Posts
New 0-size flattop features a torrefied spruce top and a cutaway.

Read More
The latest addition to Santa Cruz's line of strings is a set for 12-string guitar.

Read More
A classic small-body returns to Martin's standard series.

Read More
Taylor's oldest model gets a deluxe treatment.

Read More
The Santa Cruz signature model for bluesman Otis Taylor is all about mahogany.

Read More
A deluxe edition of Taylor's popular grand auditorium model.

Read More
A cool re-creation of Martin's first dreadnought.

Read More
Great-sounding affordable small-body guitar with vintage vibe.

Read More
DI pedal adds studio tones to your live rig.

Read More