Grace Design Felix
A great-sounding two-channel instrument preamp with a bevy of smart features.
February 8, 2016
Founded by brothers Eben and Michael Grace in the early 1990s, Grace Design has become known for its extensive line of high-end mic preamps and other studio gear. Acoustic musicians took note when the company introduced the Felix instrument preamp last year. Clearly Grace Design did its homework when designing the Felix, including pretty much any feature an acoustic musician might when amplifying an instrument. The Felix can not only improve the sound of a pickup or microphone through its extensive EQ and high-quality components, it can be used to blend two sources, switch between two instruments, provide phantom power for external or internal mics, mix an instrument and vocal mic, and much more.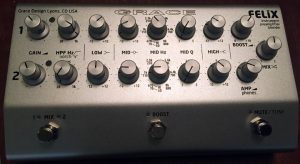 The Felix's top layout includes controls for gain, high-pass filter/notch filter; EQ controls for bass, parametric mids, and highs; and three footswitches for channel switching, boost, and mute.

Connections on the back of the unit include a pair of XLR DI outputs; four 1/4-inch jacks for tuner, footswitch, amp output, and effect insert, as well as XLR and 1/4-inch instrument inputs for channel 1 and a 1/4-inch input for channel 2.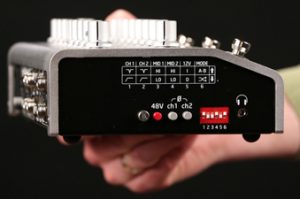 A set of dip-switches on the side allows customization of several of the Felix's functions, such as choosing whether each channel includes a high-pass filter or notch filter, two possible frequency ranges for the parametric mid controls, stereo input, channel switching, and more.
We tried the Felix using a Lowden O10 guitar with LR Baggs Anthem SL electronics and an external Neumann KM184 microphone, and a Collings MT-2 mandolin outfitted with an Audio Technica PRO 35 microphone, and got excellent results all around. By combining the guitar's onboard electronics with a high-quality studio mic, we got a very natural sound, and the Felix's powerful EQ and warm sound helped the mandolin retain its acoustic tone when amplified.
For players who don't require two channels, Grace Design has recently released a single-channel version called the Alix, which is designed as a powerful preamp/EQ/boost pedal/DI for any type of pickup output.
SPECS: Acoustic instrument preamp/EQ/DI box/blender. Two channels. Controls for gain, high pass filter/notch filter, and three-band EQ with fully parametric mids. Three footswitches for channel switching, boost, and mute. XLR (with 48v phantom power) and ¼-inch inputs for channel one; ¼-inch input for channel two (with optional 12v phantom power). Quarter-inch jacks for effect insert, amp output, external footswitch, and tuner. Two XLR outputs. 100–240 volt operation. Aluminum-and-steel enclosure. Made in the USA. $995 street. gracedesign.com
Related New Gear Posts
Two microphones optimized for capturing acoustic performances.

Read More
Large-diaphragm microphone optimized for performing with acoustic instruments.

Read More
A unique effects processor that mounts directly to the guitar adds reverb and other sounds to the unamplified tone of the instrument.

Read More
A great sounding, easy-to-use chorus pedal.

Read More
A powerful personal PA for acoustic instruments.

Read More
A great new acoustic amp with a built-in rechargeable battery.

Read More
Four new pedals designed to enhance acoustic amplification.

Read More
A powerful personal PA with an expandable design.

Read More
A powerful and easy-to-use acoustic instrument preamp/DI.

Read More
A tiny full-range amp with great sound provides a modest volume boost.

Read More