Doug Young: Paddy Fahy's Jig #1/Paddy Fahy's Reel #3
Peghead Nation instructor plays a fingerstyle guitar arrangement of two popular Irish tunes.
March 14, 2023
San Francisco Bay Area guitarist Doug Young is an expert in arranging both contemporary and traditional music for fingerstyle guitar, and he showcases his skills on several albums. Doug teaches Peghead Nation's Alternate Tunings Fingerstyle Guitar course, where he explores a wide variety of tunings and fingerstyle techniques, and uses his arrangements as vehicles for demonstrating the concepts.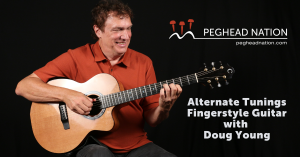 "Paddy Fahy's Jig #1" and "Paddy Fahy's Reel #3" are tunes that are popular at Irish sessions, and Doug used recordings by fiddler Martin Hayes to base his arrangements on. Using them to explore DGDGAD tuning, he teaches both in his course, which includes music and TAB for each tune. 
In this performance, Doug plays the minor-key "Paddy Fahy's Jig #1" followed by the major-key "Paddy Fahy's Reel #3," both in a fluid style that is a hallmark of playing in alternate tunings.
To study with Doug, sign up for his course, Alternate Tunings Fingerstyle Guitar!
Related Performances Posts
A beautiful original fingerstyle piece by Peghead Nation's newest guitar instructor.

Read More
Peghead Nation instructor Doug Young is joined by co-founder Teja Gerken for a guitar duet of an original tune.

Read More
Peghead Nation clawhammer guitar instructor plays a medley of two fiddle tunes.

Read More
Peghead Nation clawhammer guitar instructor plays a brand-new original tune.

Read More
Froggy Bottom luthier and Muleskinner Instruments founder Andy Mueller plays a Muleskinner octave mandolin with his trio.

Read More
Scott Ainslie plays "Coleman's March" in Open C tuning on a beautiful Froggy Bottom.

Read More
Songwriter Benjamin Scheuer plays an original song from his award-winning one-man, six-guitar show, THE LION.

Read More
Guitar virtuoso Ryosuke Yufu plays an original tune on his Taylor 514ce at Kitty Izu Studio in Japan.

Read More
Scott Ainslie plays a Mississippi John Hurt classic on a beautiful 12-fret built with Koa back and sides and a Sitka spruce top.

Read More
Scott Ainslie plays a beautiful version of "You Don't Know What Love Is" on a custom parlor guitar from Froggy Bottom Guitars.

Read More