Sharon Gilchrist's Melodic Embellishment Live Workshop | Introductory Video
Join Sharon's live Zoom workshop, happening every other week, starting on Saturday, January 16 and ending on Saturday, April 24.
By: Dan Gabel
January 1, 2021
Peghead Nation is excited to announce an eight-part live Zoom workshop series taught by Peghead Nation mandolin instructor Sharon Gilchrist called Melodic Embellishment: A Doorway to Improvisation. The series is designed for beginning to intermediate-level mandolinists, and players of other instruments tuned in fifths who are looking to start improvising or increase their improvisational skills. It will be held every other Saturday from 11 am to 12 pm PST (2 pm to 3 pm EST), starting on Saturday, January 16 and ending on April 24. Register for the workshop today!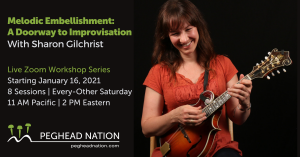 As Sharon describes in this introductory video, she will use common bluegrass and old-time tunes like "Old Joe Clark," "Whiskey Before Breakfast," "June Apple," "Angeline the Baker," and more to demonstrate her method for teaching students how to embellish and vary melodies as a way to begin to improvise. 
In working with private students and teaching at numerous music camps around the world Sharon has developed an effective way of teaching this first stage of improvisation, allowing students to quickly go from playing basic melodies to expressing themselves on their instrument.
The fee for the eight-part workshop is $200 and, in addition to admittance to all eight workshops, students will receive PDFs (notation and tab) and audio MP3s of each tune, as well as access to recordings of each workshop. Workshop recordings will be available to students a week after each class, in case they miss a class or want to review what they've learned.
Join us for Sharon's workshop!
Related Back Room Posts
Peghead Nation's Contemporary Bluegrass Banjo instructor Wes Corbett joins Sam Bush on a classic John Hartford song.

Read More
Exclusive Peghead Nation video of our mandolin and fiddle instructors playing a great old-time tune at Wintergrass 2022.

Read More
The virtuosic four-piece showcases their playful arrangement of a Beatles classic, which they also recorded on their new album "Extrovert."

Read More
Watch an exclusive Peghead Nation video of our mandolin and fiddle instructors playing a great old-time tune at Wintergrass 2022.

Read More
The virtuosic string band plays an old-time favorite during the Wintergrass Festival.

Read More
Peghead Nation instructors play a jazz-infused duo version of a classic Bill Monroe waltz.

Read More
The talented singer-songwriter plays an original song live in the Thompson Guitars shop.

Read More
Peghead Nation Melodic Mandolin Tunes instructor plays a new tune off of his latest album, "New Time and Old Acoustic."

Read More
Our Melodic Mandolin Tunes instructor plays a bluegrass classic with the 2020 IBMA Momentum Band Award winners.

Read More
A smoking triple-mandolin version of David Grisman's tune "E.M.D.," recorded at the Great Lakes Music Camp 2019.

Read More