Join Matt Munisteri at Red Hot Strings Workshop | Port Townsend, Washington, May 15–19
Peghead Nation's jazz guitar instructor hosts a workshop and celebration of hot jazz, 1930s swing, Western and Hawaiian swing, and much more.
By: Dan Gabel
April 1, 2019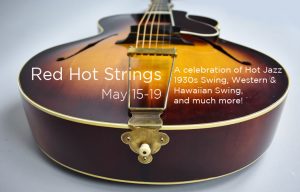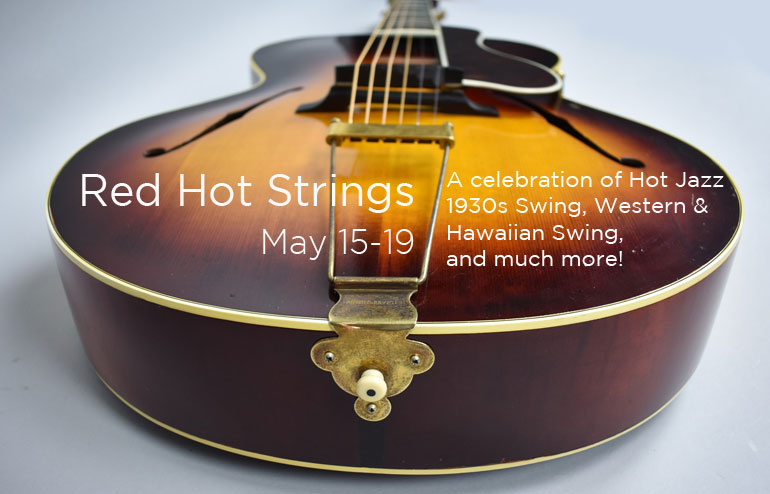 Peghead Nation's Roots of Jazz Guitar instructor Matt Munisteri is one of the relatively small number of authoritative acoustic jazz guitarists playing swing and early jazz, and he is a first-call guitarist when a "period" sound is sought for CDs, film scores, and commercials.
Now, in conjunction with the folks at Centrum in Port Townsend, Washington, Matt has put together a lineup of great instructors and professional instrumentalists to teach 1920s and '30s jazz at the Red Hot Strings workshop, May 15–19, 2019. This is your chance to learn early jazz guitar, violin, mandolin, bass, and tenor banjo with some of the best jazz instructors working today.
Red Hot Strings' instructors will include Matt, guitarist Albanie Falletta, violinist George Washingmachine, steel guitarist Mikiya Matsuda, mandolinist Dennis Lichtman, bassist Matt Weiner, and tenor banjoist Tyler Jackson.
Here's how Matt explains the nuances of the workshop:
For a couple of years I've been in touch with the great folk at Centrum in Port Townsend, Washington, about creating a workshop focusing on the complex gumbo of New World string traditions which were all bubbling along throughout the dawn of jazz, and Red Hot Strings is the result. RHS is a celebration of the "jazz age" string players, a long line of musicians birthed in ragtime and blues, and unleashed in the popular music of the 1920s and '30s. This means 1920s hot jazz and 1930s swing, and naturally the string-reliant sub-genres of Western swing, Hawaiian swing, and even the jazzier jugbands of the American South. We also regard other stringed instrument innovators throughout the Americas – the Caribbean, Latin America, New Orleans etc. – who were likewise enmeshed in their own dialogues with the era's emergent jazz language, as being connected to this acoustic stringed instrument renaissance. From ragtime to blues, classical to Creole, many musical traditions had a hand in the development of the harmonically and rhythmically compelling improvising vocabulary of jazz, and stringed instrument players were in the mix from its inception!
Registration for Red Hot Strings is now open! Learn more here.
Related Events Posts
Join a new festival featuring Peghead Nation instructors Joe K. Walsh and Bruce Molsky, and a full day's lineup of great musicians.

Read More
Peghead Nation is sponsoring Porch Pride 2021 and a special all-levels virtual jam.

Read More